Colour trends are a direct response to the world around us. After two tumultuous years, international paint houses are inspiring designers with colours to calm the mind and uplift the spirit. Here are three of our favourite hues for 2022.
Dulux 2022 Colour of the Year – Bright Skies
Every year, Dulux colour experts translate global design trends into the new Colour of the Year. For 2022, they have selected 'Bright Skies', a fresh tone that will lift any space. This transformative shade is literally a breath of fresh air after a challenging year. Dulux have also selected four complementing palettes to inspire designers across the world.
Sherwin-Williams – Evergreen Fog
Legendary American paint company Sherwin-Williams have selected Evergreen Fog as their 2022 colour of the year. It is a subtle grey-green that provides comfort and rest – ideal for an entry hallway or to establish quiet and calm in bedrooms. Its restorative energy is ideal after the continual flux of the pandemic.
Farrow & Ball – 'Babouche'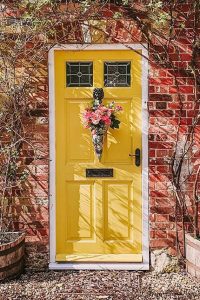 Cult British paint and wallpaper manufacturer Farrow & Ball are famous for their delicate hues and the unusual names of their paints.
One of the colours they have selected as a trend for 2022 is 'Babouche', a cheerful and uncomplicated colour. It is bold without being overpowering and perfect to inject joy into any interior.

Babouche is named after the soft slippers traditionally worn in Morocco and is a vibrant, uplifting choice. If you feel it is too strong for a whole room, consider it as an accent across a dark or neutral canvas.
We love the idea of Babouche as a bright, welcoming door against a rusty brick and climbing plants (Image: Farrow & Ball).
We've selected the 2022 Decor + Design and Australian International Furniture Fair (AIFF) colours to reflect these trends, as well as those chosen by our own prescient forecaster, UK-based Futurist Victoria Redshaw.
Victoria's insights – which draw on a wealth of knowledge regarding interiors, fashion, sustainability, technology, history and politics – are your crucial link to the design directions which will help shape a new world. Discover the colours, patterns, materials, finishes and styles which will dominate interior design and products in the coming year.
Victoria's virtual 2022 Major Design Forecast is still available to download, for $66 including GST.