This year we had a heady rush of freedom, with a return to international travel and restrictions lifted off exhibitions. Furniture and design professionals were once again able to experience the latest products in person. Let's take a look at the three biggest design and furniture trends we spotted in 2022…
Marble and Natural Stone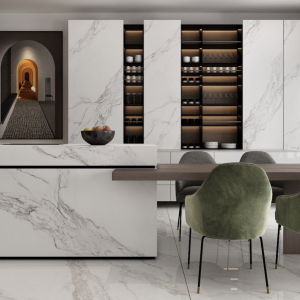 Natural stone or mineral-inspired prints were everywhere this year and will continue to be big in 2023. At Decor + Design and the Australian International Furniture Fair (AIFF), AC Stone (left) wowed visitors with their durable and sustainable stone and porcelain products.
The group is a leading supplier of engineered quartz stone and porcelain products for Australian interiors, combining style with longevity.
Bouclé, Bouclé! 
Bouclé continued its world domination in 2022, with a slight twist. While the high-texture textile has been popular for adding depth to neutral fabrics and off-whites, bouclé became more multi-faceted in 2022, seen in deeper colours such as rust, clay, purple and citrine.
At Milan's Salone del Mobile in June 2022, the Fratelli Boffi stand was perhaps the perfect ode to bouclé, with rusts, purples and greens all working together in perfect harmony. The materials also had a more refined texture than previous incarnations.
STYLISH SUSTAINABILITY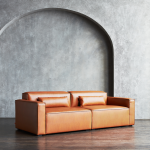 Sustainable design is becoming increasingly luxurious and stylish, with designers all over the world upping the ante. In Melbourne, M + Co Living exhibited for the first time at Decor + Design and the Australian International Furniture Fair in July 2022, impressing visitors with a chic in-house collection. They are also the Pacific distributor of the Gus* Modern brand; sustainable furniture that combines comfort and high style with low environmental impact.
The Gus* Modern Vegan AppleSkin™ Leather sofa was a favourite with Decor + Design visitors, where it was on display at the Design Matters National Sustainability Hub. The luxe material is made by upcycling discarded fruit fibre that retains the classic aesthetic of natural leather.
What will 2023 bring? Subscribe now to stay updated on all the news from the world of interiors and furniture. The 19th edition the Australian International Furniture Fair (AIFF) will take place from 13 – 16 July 2023 at the Melbourne Exhibition Centre, co-located with Decor + Design. Start planning your trip to see the latest collections from leading exhibitors across furniture, soft furnishings, textiles, art, lighting, architectural fittings and kitchens.