Taking place from 13 – 16 July 2023 at Melbourne Exhibition Centre, Decor + Design & The Australian International Furniture Fair (AIFF) will have an increased focus on Australian Made furniture and socially conscious design that factors in the environment and the community. It will also have a fresh, joyful look with a vibrant colour palette inspired by our 2023 Official Colour Partner, Dulux Australia.
We chose the 2023 Dulux 'Revive' palette as the direction for this year as it is playful and healing while still adding depth. It features soft blue and lilac alongside vibrant emerald and accents of playful pink and purple.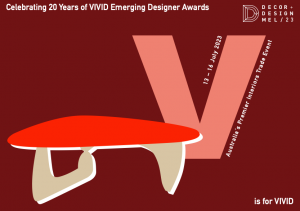 We've also added a dash of deep magenta which is a twist on the 2023 Pantone Colour of the Year, Vivid Magenta, and echoes the hero colour chosen by Latitude Group, curators of the VIVID Emerging Designer Awards which take place at the show.
The artwork designs are also inspired by the geometric shapes and block shapes from Milan Design Week 2023, as well as classic pieces of furniture which will be immediately recognisable to visitors.
Celebrating Australian Made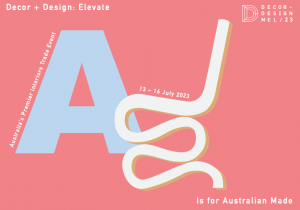 Dulux has been helping Australians change their homes and communities since 1918. Over the decades, they've become the nation's favourite paint and have been voted the most trusted paint brand in Australia for the last nine years in a row (Reader's Digest, 2021). Dulux's innovation, premium quality and even the famous 'Dulux Dog' have made them an Australian icon.
The Dulux paint you buy in Australia is also made in Australia. Dulux has facilities in both Victoria and Queensland, and their plant in Merrifield in Melbourne's north is the largest paint factory in Australia and New Zealand. Opened in 2018, it features world-class technology to provide Australians with the very highest quality paint.
Australian Made innovation will also be on display at the show at the Green Design Hub, which will showcase the latest in sustainability from brands including Armadillo, A.H Beard, Cultivated by Cult Design and many more. Within the wider exhibition, Australian craftsmanship will be seen from exhibitors such as Buywood Furniture and Crafted
Playful Colours will Elevate Decor + Design & AIFF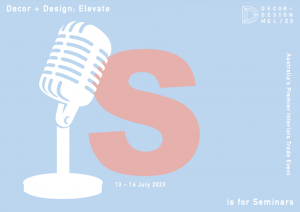 Our hero colour is the soft blue of Dulux's 'Breezy Half', juxtaposed against the white of 'Lexicon Quarter'. The Revive palette is also a clash of modern and revived styles from the '50s, '60s, '70s and 80s. Look out for patterns that are graphic, funky, wavy, checked, pixelated and geometric.
Other colours to watch out for at Decor + Design 2023 include 'Perplexed', 'Princess Pink' and 'Paper Brown', popping through features such as the Champagne Lounge and the Seminar Theatre.
Don't miss Decor + Design & The Australian International Furniture Fair (AIFF) at the Melbourne Exhibition Centre, 13 – 16 July, 2023.
Register now to attend as a trade visitor and see exhibitors from across indoor and outdoor furniture, soft furnishings, lighting, textiles and art.