Adele Locke is a master of light. The talented architectural lighting designer and founder of MINT Lighting Design will be hosting a workshop at Decor + Design & the Australian International Furniture Fair (AIFF) on Thursday 13th July as part of the 2023 Seminar Series, sharing her knowledge with designers on how to light a family home to perfection. We asked Adele a few questions to shed some (carefully crafted) light on her pathway to becoming a notable designer in the lighting space.
Adele, what was your pathway to becoming a designer?
It was convoluted to say the least! I grew up working in my father's manufacturing business and after a decade working in other fields, he lured me back to help him build the business up for sale! As part of that journey, I attended RMIT to learn Illumination Engineering (did I mention my father's business was manufacturing light fittings?), fell in love with the science and maths behind the wonderful artistic creativity of light and there began my career in the lighting industry.  After about six years in commercial lighting, I had consolidated my understanding of light and lighting design and embarked on the creation of MINT Lighting Design with the goal of making lighting design an easily accessible and valuable part of every home's design.

How would you describe your aesthetic?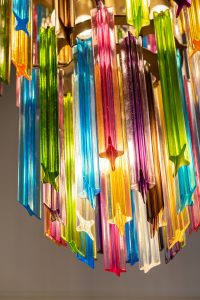 In my designs, I don't really have a particular aesthetic. Much of what we do as architectural lighting designers is find ways to light spaces that highlights the interior design and architecture.  Our job is to provide light from "invisible" sources, to draw attention to the important features of a room.  I see decorative lighting elements as very much part of the interior design, or of the client's vision.  I leave those aesthetic choices to the people who know the vision best and support those choices with beautifully crafted light.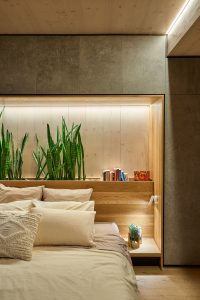 What project/s are you most proud of?

I am honestly proud of all our projects, but perhaps if I share three that are unique in their own way.  I designed the lighting on the Hutt01 house in Coburg (left, and above). As a passive house design and as a truly outstanding piece of architecture, it was an absolute privilege to work on.
At the complete other end of the spectrum is my South House which is full of bold colours and whimsical interior styling by our creative client, but the most impressive part of the design is the oversized Murano inspired chandelier that I designed and had fabricated locally in collaboration with Random Spaces and the hugely talented Claire Tennant – a resin artist in NSW who handmade and colour matched every "crystal" in the light. (Chandelier pictured above right and in article feature image).
And one of my recent favourites is our Esplanade Home – the finish quality of the build and the architectural design are simply outstanding and I am so delighted to see our lighting design bringing the home to life and giving it such a welcoming feel.
Who or what inspires you in your work?
I am continuously inspired by light artists around the world and by light and lighting design everywhere.  I am that person that cannot walk into any space without seeking out all the details to admire and pointing out beautiful light wherever I see it.
The most wonderful thing about being a lighting designer is that my design "material" is everywhere! It's in the sunlight playing through the window, in the café where I get my morning coffee, in the restaurants and art galleries and all the places where I live my life.
Every design I prepare is inspired by the people involved in the project and the beautiful architecture and interior design work in the home.
Be inspired by Adele Locke at Decor + Design & The Australian International Furniture Fair (AIFF). Adele will be hosting a workshop on 'How to Light a Family Home – Without Downlights!' from 3pm – 5pm on Thursday 13th July. Register now as a trade visitor to attend and book your workshop!