This July, Melbourne will be awash with sustainable design innovation. The Green Design Hub at Decor + Design & The Australian International Furniture Fair (AIFF), 13 -16 July 2023, will take visitors on a journey into what real sustainability looks like for the furniture and design industry. Now in their 19th year, Decor + Design & AIFF are Australia's longest-running, most established trade event for the interiors industry. As such we have an opportunity to use our platform to elevate socially conscious design.
We're delighted that AMP Circular will be part of the installation. The circular design arm of Allmould Plastics Group, AMP Circular coordinate innovative recycling programs that take plastics out of landfill and back into design products.
In the lead up to the event, we spoke to Scott Cantrill of AMP Circular to learn a little more about their mission.
Scott, when and why was AMP Circular founded?

AMP Circular is not a typical business but rather a platform that sits under the Allmould Plastics Group to manage circular and recycling programs through the public and private sectors in Australia.
AMP Circular was born out of Allmould Plastics Group directors being concerned and conscious about the environment and our oncoming generation's livelihoods and living conditions. Too many decisions, if not all commercial decisions, are made relating to $$$'s with no thought of the impact it has on the environment.
What are the implications of the mid-2024 Chinese waste export ban on Australian manufacturing?

Australia must recycle around 650,000 additional tonnes of waste plastic, paper, glass and tyres each year now that the Chinese Waste ban is in place. Australia is well behind in our efforts to recycle, this is largely because waste service providers throughout the country have opted for easy landfill and incineration options in the past because of convenience rather than recyclable and circular solutions.
How does AMP Circular disrupt the traditional commercial mentality of the plastics industry? What are your key challenges?

AMP Circular look for ways to turn used/virgin plastic products and material into a circular loop and give the materials/polymers a second life that extends well off into the future. According to university studies, there is an average waste of 7.2kg per bed and predominantly this large amount is made up of single use plastic products and packaging that can, if managed and sorted, be used in a circular economy.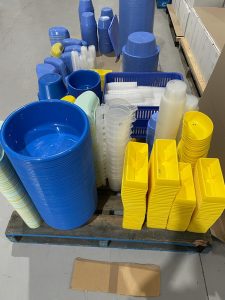 Can you give us an example of how AMP Circular recycles plastic for use in new products for Allmould Plastics clients?

An example is AMP Circular's supply of virgin plastic parts into the medical sector, which are used for their intended purpose and then – through our programs – can be, collected, re-granulated and remanufactured back into a product that has a 20 year plus life, with the possibility to turn the part around yet again and reuse it thereafter.
AMP Circular will be contributing to the 2023 Green Design Hub at Decor + Design Melbourne this year, 13 – 16 July. How will you be involved and why did you decide to take part?
We are taking part because Karie Soehardi from Circular Design Thinking has asked me to supply some recycled prop sections for her stand. Karie's been a very positive disruptive thinker in the circular economy world for an extended time now, which gives our company confidence this will be a success.
Discover more about AMP Circular at the 2023 Green Design Hub. The Hub will also feature innovative products available to the industry right now, from brands including Enviro Hide by EmTech, Cosentino, Armadillo, A.H Beard, Cultivated by Cult Design, Hameland, E9 Design, Zepel Fabrics, ResiLoop, TRAKS Textile Recycling and more.
Register now as a design trade visitor for The Australian International Furniture Fair (AIFF), co-located with Decor + Design. See hundreds of exhibitors across indoor and outdoor furniture, textiles, soft furnishings, art and lighting, we well as influential speakers at the 2023 Seminar Series, in partnership with The Design Files.