The Australian International Furniture Fair (AIFF) & Decor + Design, 13 – 16 July in Melbourne, is a crucial buying and networking destination for retail chains, interior designers, decorators and design media to experience the latest products in the industry, cherry-picking the best to offer to discerning Australian consumers.
Which is why we're delighted that the elegant Apsley and Company will be returning to the exhibition to showcase their exquisite candles and home fragrances.
From humble beginnings, Apsley and Company has grown into an internationally adored, Australian-owned brand, available in over 30 countries. Founded in 1995 by Helen Armstrong (left) and David Daff, their passion for sharing the power of fragrance to create ambiance and make homes feel welcoming led them to invest in the expertise of Europe's finest perfumers.
The warm reception from Australians prompted their expansion, and in 2005, they introduced Australia's first fragrance reed diffuser, gaining global recognition.
Today, Apsley and Company encompass three established brands: Apsley and Company, Abode Aroma, and Scented Space. Offering a wide range of 200 home fragrances, their products are crafted with unparalleled quality and timeless style. From luxurious soy wax candles in opulent hand-blown glass to crystal candles with clean lines and original reed diffusers, there's something for everyone and every occasion.
Elevating the realm of luxury home fragrance, Apsley and Company has firmly established itself as a premier purveyor of refined scents and sophisticated ambiance, catering to those seeking to create beautiful spaces.
Apsley and Company uphold traditional values while embracing a modern approach. They conduct business with integrity, honesty, and diversity, ensuring no animal testing and providing refill options for sustainability.
In the lead up to Decor + Design, we spoke to Helen Armstrong of Apsley and Company about their gorgeous products and recent projects, as well as what visitors can expect to see at the event in July.
Helen, what's Apsley and Company's point of difference in the candles and fragrance market?
We have always been focused on making a product that is aesthetically pleasing and looks beautiful as well as delivering a beautiful scent. This is not necessarily a very commercial approach!  If the candle looks beautiful, consumers are often reluctant to burn it!
With our fragrance diffusers, we spent months developing a formulation that had great longevity, wasn't just water and alcohol, and didn't just evaporate in two months. Again, perhaps not the best commercial decision, because they last so long!
Our products are more than a single use item, able to be harnessed in three distinct ways:
As a beautiful home scented item – candle or diffuser
A lovely décor piece.
An item that can be reused, repurposed and in some instances refilled.
Can you tell us more about the design and making process?
We certainly watch trends, particularly in Europe. However, not all those directions translate well to Australia or some other countries that we trade with.
Sometimes the trickledown effect can take many years.  For example, super-sized candles that are décor pieces.   We first saw large candles in Europe more than 10 years ago but is only now we are we seeing consumers In Australia consider purchasing a large candle that will double as a décor piece.
Once we have a story theme ( i.e. Tribal Luxe) we then talk with our glass maker about the vessel design, and we will sample up until we get the colors, shape and dimensions that we are happy with.  Once that is completed, the glass will then go into production.  As most of our pieces are individually made and by hand, this can be quite a lengthy process.  The glass is then shipped to our factory ready for filling.
During this time, we will work with our perfumers, to create fragrances that match the theme and also "work" with the glassware we have designed. i.e., heavier and woody fragrances with darker glass, fresher, uplifting fragrances for lighter colored glassware.  Again, more sampling of the fragrance, and when the fragrance is signed off, we start trialing in our soy wax formulation to ensure we have excellent cold and hot scent throw.
Our candles are made entirely by hand. From selecting the 'right' wick for the size of the vessel and hand attaching it to a metal shank, gluing the shank inside the glass, and hand pouring the scented wax – normally this is done in 3-4 stages, to polishing the glass, trimming the wicks and packing the candle.
Explore the Apsley Brands
Apsley and Company, the flagship brand, embodies the essence of sophistication and exclusivity. Meticulously crafted fragrances, encased in exquisite vessels, emanate an aura of refinement and timeless quality. From the delicate notes of artisanal perfumes to the intoxicating aromas of nature-inspired creations, Apsley and Company encapsulates the essence of fine living.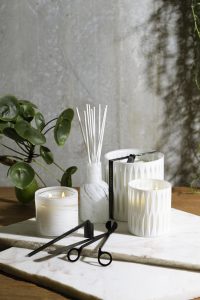 Scented Space, an extension of the brand's vision, offers a curated selection of aromatic accents designed to infuse spaces with a sense of luxury and tranquility. The collection presents an array of scented candles, reed diffusers, and room sprays, meticulously formulated to captivate the senses and transform any environment into a sanctuary of style and serenity.
Complementing the allure of Apsley and Company and Scented Space, Abode Aroma presents a range of home fragrance products that celebrate contemporary minimalism. Combining clean lines and sleek design with captivating scents, Abode Aroma captures the essence of modern sophistication. From elegantly understated diffusers to sleek and stylish Candle Holders, this range harmonises aesthetics and aroma, transcending boundaries and embracing the essence of contemporary living.
For those who seek to create captivating spaces resonating with elegance and refinement, Apsley and Company's three ranges offer a harmonious fusion of olfactory artistry and exquisite craftsmanship.
Can you share some exciting recent projects?
It's been so wonderful to return to face-to-face meetings with our customers and our HK and China teams. There really is no substitute for face-to-face discussions when working through the nuances of shape, colour and fragrance.
Our European presence is growing, and our luxury candle and crystal ranges are doing well in Netherlands, Austria, Belgium and Switzerland.  It is pleasing to see this growth when retail worldwide is still struggling from the fallout of Covid,
We have been working on creating vessels for candles that can be repurposed or refilled.
We are also seeing a lot more requests for more complex sophisticated scents. Five years ago Vanilla was the number one fragrance – now consumers are looking for more nuanced scents!
What's new in the Apsley and Company ranges?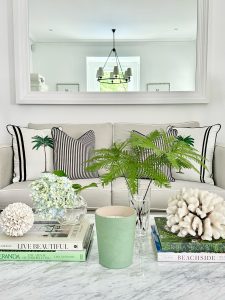 Vegan Leather range.

Experience a little bit of luxury while staying eco-conscious with our new sustainable vegan leather candle range.
Bask in sensory delight with the timeless style of leather. Inspired by the wonder of summer living and the classic style of Ralph Lauren, we have created a beautiful range of luxury vegan candles with soft vegan leather holders that are sure to become a treasured item in your home.
Scented Space diffusers.
We have repackaged our very popular Scented Space Fragrance Diffuser range.  We are very excited at the initial reaction to the new look and will be showcasing this at the show.
The Apiary.
Our new Apsley and Company range which will be released at the show. Again, it is a range of exquisitely hard carved, matte glass that was inspired by natural elements and colours.  You will need to visit the stand to check it out – no sneak peaks!
See The Apiary collection and other stunning products from Apsley and Company at Stand I24 of Decor + Design & The Australian International Furniture Fair (AIFF), 13 – 16 July at Melbourne Exhibition Centre. Register now as a visitor – entry to the exhibition is free but limited to design trade visitors.
The show will also include stunning features such as the inaugural Green Design Hub and the 20th anniversary of the VIVID Emerging Designer Awards. The 2023 Seminar Series will celebrate a stellar line-up of speakers, including Akira Isogawa, Brahman Perera, Adelaide Bragg, Charlotte Coote, Bree Leech, Heather Nette King, Kerrie-Ann Jones and many more. Tickets range from $55 – $75 and can be purchased when you register to visit.