We're in love with the heavenly scented candles from Melbourne-based brand Apsley and Company! Also known for their exquisite home fragrances, their luxury candles and home fragrances have been creating nurturing interiors for over 25 years.
Established in Australia in 1995, the company's early success at home opened the door to international demand. Apsley and Company now supply more than 200 home fragrance products to over 20 countries.
Apsley and Company will be exhibiting at Decor + Design and the Australian International Furniture Fair (AIFF) in Melbourne from 14 -17 July 2022. Register now as a trade visitor to see their stunning collections at Stand I24. In the lead up to the event, we spoke to founder Helen Armstrong about what's been happening and what visitors can expect to see at the show.
Helen, what's been happening for Apsley in the first half of 2022?
It's been a crazy six months! On the product side, the good news is that everyone loves home fragrance. It's now an essential element in home styling. If you are working from home, there's nothing like having a fragrant environment to work in. If instead you're coming home after a long day at work, there's nothing like that signature ambient scent of a diffuser fragrance to welcome you as you walk in the door! Just light a beautifully scented candle to create a relaxing atmosphere, and you are truly home.
We have seen a significant trend towards candles becoming larger as well as being décor pieces, with a preference for vessels that can be repurposed. It's not enough to have a simple candle in a jar. Consumers want a candle to do more – it has to smell  but also has to look stylish.
Consumers are definitely looking for more complex and sophisticated fragrances from our brand. They want something that creates a signature fragrance for their space, that is instantly recognisable as them.
On the biz side – it's been a rollercoaster! Finally being able to travel to visit interstate and overseas customers. There is nothing like a face-to-face meeting to talk through business and product issues and share views – Zoom is great, but in person is even better! We still have issues going to our HK office and China Factory due to Quarantine requirements (7 days for HK and 14 days for China, which is just not feasible).
When it comes to logistics, we still have so many issues. A container now costs us 3 times what it cost 12 months ago. New environmental regulations in relation to shipping fragrance has meant that the process is also now so much more complex and expensive.
Physically obtaining a container to ship the goods worldwide is also a problem (we use HK as a hub). So much demand for containers and port closures due to Covid in China, has meant significant delays in getting bookings.Due to quarantine requirements, it's extremely challenging to move raw materials (glass etc) across provinces and finished goods over international borders.
Many of our raw materials come from Europe and the US even though we manufacture in China. Container shortages and shipping delays have proven very challenging!
Costs have also spiralled. Our waxes come from the US and Indonesia. There's been over a 100% price increase in 12 months! Fragrance, raw materials etc. The costs have increased exponentially due to logistical issues (time and cost to move components around the world as a result of Covid and the current issues in the Ukraine), increased demand for consumer goods during Covid that put a strain on supplies and reduced production particularly of some botanical elements that are used in fragrance production.
Can you give us any exciting examples of recent clients/projects?
We have been quietly working away developing our international markets and are very excited to see the growth of our business in Europe, particularly in the Netherlands and Belgium! The European market loves big statement candles and diffusers, and they are a must have décor accessory. The bigger the better! Our distributor has done a marvellous job on developing this market.
Although there are a couple of competitors in this luxury sector, customers love our products as our candles are considered to have better fragrance throw, our diffusers have greater longevity and our packaging is far more attractive and suited for gifting.
It's been an interesting learning curve for us, as we made a 'brave' decision to remove branding labels from our pieces as we felt it added to the allure of the piece. However, the Europeans have insisted on us adding label branding – it's very much a situation of wanting to brag about how much they spent on a luxury product, rather than the product speaking for itself.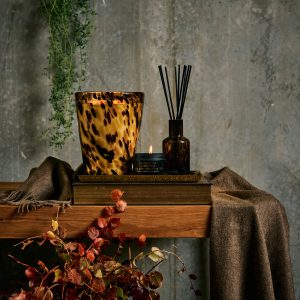 How do you ensure quality and sustainability in your candles?
We design our products with a second life in mind. Our pieces have been designed to be reused or repurposed and not thrown away.
There are refills for all diffusers and some of our candles. Unfortunately, due to the artisan made glass, making a candle refill that fits all the glass vessels with concave bases is not so easy to achieve, so it is still a project we are working on.
We have been in business nearly 25 years and 60% of our business is export, which we consider is a testament to the quality of the products that we design and manufacture. We have rigorous checking in place at many stages throughout our manufacturing process to ensure every product is perfect before it leaves the factory. We want every customer to experience that 'wow' feeling when they open and use one of our products.
We're so excited you'll be back exhibiting at Decor + Design in 2022. Why did you decide to exhibit this year? What can visitors expect to see at your stand?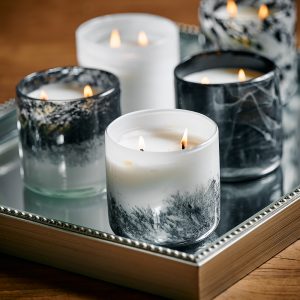 We love Decor + Design because it creates such a beautiful event for visitors to experience the latest and most beautiful/interesting décor pieces.
We have been keen to exhibit and show some of the new developments we have been working on for the past couple of years and we understand that designers and buyers love to touch and feel, rather than 'just add to cart'. It also gives us the opportunity to talk one on one and to share the stories behind the curated fragrance developments, what inspires us and how we create really special luxury pieces.
We have several exciting new lines and have continued to work on designing items that combine both exquisite fragrance and a luxury décor element. Aside from launching our beautiful new monochrome Glimpse range for Apsley and Company, we are also bringing along our two sister brands, Abode Aroma and Scented Space. Both have some extraordinary pieces to show.
The new Cybus range from the Abode Aroma brand (picture near top of article), features some substantial, hand cut, minimalist crystal pieces. These are true statement pieces and would suit many decors. We also felt it was time to celebrate life, as it's been such a tough couple of years.
So, we have created a glamourous Celebrate range for Scented Space that features an exquisite cashmerian bespoke fragrance in spectacular champagne coloured Mercury glass. The star of the range is a 4-kilo scented soy candle – a must have piece!
Don't miss seeing the latest collections from Apsley and Company at Decor + Design and the Australian International Furniture Fair (AIFF), 14 – 17 July at Melbourne Exhibition Centre. Entry to the exhibition is free but limited to trade visitors. Register now! Seminar Series tickets range from $55 – $75. Speakers include David Hicks, Collette Dinnigan, David Flack, Shaynna Blaze, Jamie Durie and many more.