Artificial Intelligence (AI) language model ChatGPT has been blowing people's minds the past few months. AI is also revolutionising the furniture and design industry!
Earlier this year, prescient British designer Tom Dixon told Dezeen that AI will be more widely adopted by designers in 2023, saying that: "AI will dominate the aesthetics and the conversation around design – knocking aside the more important and pressing subject of sustainability. AI is the biggest threat and opportunity that the profession faces."
The threat that Dixon implies is the existential one that perhaps many industries are feeling from the rapidly evolving capabilities of AI. Other designers are more optimistic that a hybrid model and a healthy working relationship between virtual and human counterparts will allow for enhanced creativity and problem-solving.
Legendary French designer Phillipe Starck believes that the possibilities of AI may in fact provide a solution to environmental issues. "Together, the human and AI may solve the world's problems and achieve a civilised civilisation," commented Starck.
Here are three major shifts happening right now in design thanks to the technology:
AI Programs Are Converting Text & Audio Prompts From Humans Into Extraordinary Architectural Images
AI text-to-image software like Midjourney, DALL-E and Stable AI (which owns Stable Diffusion and DreamStudio) is rapidly changing the way that architects and designers approach the conceptual stage of product and building design.
These visualisation tools still require a skilled practitioner but can produce highly usable AI images that can act as the foundation for design. They hold immense potential in reducing the amount of labour required to produce renders in architectural and interior design studios.
AI is Producing Evolved Product Designs
AI programs are being utilised for complex product design. Space agency NASA has been using AI to develop its mission hardware, designing components that are stronger and lighter than those designed by human engineers – and a lot more quickly.
Developed by research Engineer Ryan McClelland (left, image from NASA), the program takes a fraction of the time needed by expert NASA designers to create metal brackets and mounts for space exploration missions.
Like ChatGPT and other AI, at present the program is being fed information and is reliant on humans. However, it shows the potential of AI to take what its given and come up with solutions far beyond expectations.
Smart Technology Will Be Interwoven With Heritage Craft
In other areas of technology, Smart home tech continues to evolve and take up a greater presence in our lives and interiors. Superstar interior designer Kelly Wearstler says that, while she expects smart home technology to be huge, "it will be the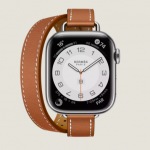 human touch within that keeps our interiors warm and soulful."
"Design will evolve as technological innovations and handmade craft continue to interact," Wearstler told Dezeen. "Objects and spaces that wed these two tracks are the future."
An example is the Hermès Apple Watch (right) which melds a heritage brand and craft with smart technology.
Augmented Reality for Home Retailers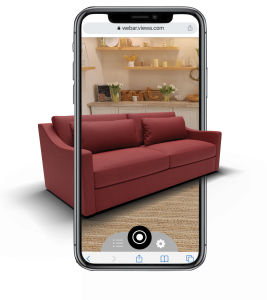 Augmented Reality (AR) has been gaining traction in the interiors industry. The advent of web-based AR (WebAR) means that shoppers can easily use the technology and has enhanced engagement significantly.
We're delighted that Viewa, a WebAR company that is working with established companies in the furniture and design industry, will be exhibiting at the Australian International Furniture Fair (AIFF) & Decor + Design 2023 and also be the official AR Partner of the event.
The team from Viewa will be giving design trade visitors a free demonstration of WebAR technology and showing them how it can easily showcase products in homes (left).
Be inspired by the latest technology and designs at the Australian International Furniture Fair (AIFF) & Decor + Design, 13 – 16 July at Melbourne Exhibition Centre.
Exciting features at the show will include the First Nations Design Collective, Atelier Avenue, VIVID Design Awards and the Seminar Series. Register now as a design trade visitor – entry to the exhibition is free.