The Australian International Furniture Fair (AIFF) & Decor + Design are set for an increased focus on kitchens & bathrooms this July in Melbourne. Get inspired by three stunning bathroom trends we're already seeing in 2023… 
Custom-Made Timber Vanities

Upcycling furniture into vanities can be a beautiful way to add interest to a bathroom, as can creating bespoke cabinetry from sustainable materials.
High-quality materials like mahogany and walnut woods add grown up depth and glamour. Using vintage or repurposed vanities is also a great way to upcycle pieces.
We absolutely adore this magnificent bespoke vanity (pictured above) from our 2023 exhibitor Buywood Furniture, who have a reputation for handcrafting some of the highest quality timber furniture available in Australia.
Sustainable Stone Sinks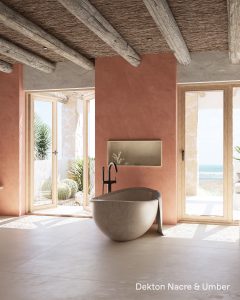 Stone, travertine marble and sustainably-engineered mineral surfaces were everywhere at Milan Design Week in 2022. Installing a sustainable stone bathroom sink can make a stunning statement.
Leading surface brand Cosentino will be sponsoring the Green Design Hub at Decor + Design & AIFF in 2023. Well-known to architects and designers for their stunning products, Cosentino's Dekton range is ultra-compact, high-performance sustainable stone at its very best.
Cosentino also offset 100% of their CO2 emissions over the entire product life cycle, making Dekton the only Cradle-to-Grave Carbon Neutral surface on the market. We love the Nacre & Umber palette (left). Explore more of the Dekton range here.
'Jewel Box' Powder Rooms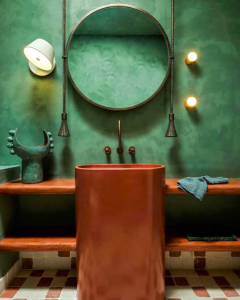 With the return of Art Deco and romance in design, we're seeing the rise of high-end powder rooms which feel like gorgeous jewel boxes.
Bold, colourful sinks or walls create a dramatic feature. A tiny powder room can have a serious impact, giving guests an unforgettable experience when they retreat to 'powder their noses'!
A stunning example is the powder room recently created by YSG Studio for Zoë Foster Blake's home in Vaucluse (right, photographed by Anson Smart for Vogue Living), which she describes in Vogue Living as one of her favourite rooms in the house.
Get ready to be inspired by elevated kitchen & bathroom design at the Australian International Furniture Fair (AIFF) & Decor + Design 2023! Register now to be notified when trade visitor registration opens.