At Decor + Design & The Australian International Furniture Fair (AIFF) 2023, 13 -16 July in Melbourne, we're taking visitors on a deep exploration of what sustainability in the design industry truly looks like. Curated by Circular Design Thinking, the inaugural Green Design Hub will be completely carbon neutral and constructed with reusable componentry. It will also feature beautiful sustainable products available to the industry right now, from brands includingSpace Furniture, Cultivated by Cult Design, Hameland, E9 Design, AH Beard, Zepel Fabrics, ResiLoop, TRAKS Textile Recycling, Cosentino, Enviro Hide and more.
CERES Fair Wood will be playing a starring role. A social enterprise supplying farm forested and salvaged timbers, they are working with Circular Design Thinking on the construction of the stand itself, harnessing their Macrocarpa structural timbers with the intention of taking back the material at the end of the show to repurpose it and give it new life.
In the lead up to the event we spoke to the CERES Fair Wood team about the origins of the social enterprise and some of their most interesting projects to date…
Can you tell us a little about the origins of CERES Fair Wood?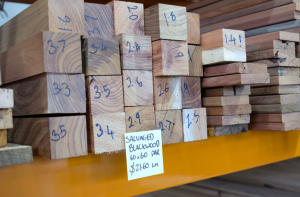 CERES Fair Wood exists to change the way we think and connect with our timber supply. Championing transparency, Fair Wood acts as an honest broker of timber.
We were founded by architect Paul Haar, who saw a gap in the market. Lots of farmers were growing trees on their land but had no viable way to get their timber to market.
As we all grapple with dwindling timber supplies and knowing where our materials come from, CERES Fair Wood supports agroforesters, small scale farm foresters and millers to get their sustainable timber to market.
CERES builds markets for purposeful trade through a network of not-for-profit social enterprise models, including Fair Wood. We give equally to growers, processors and customers and encourage growers to plant more trees. Trees purposefully planted on open pasture land, for conservation and profit, also have a critical role to play in addressing our climate and biodiversity emergency.
How do your services support the circular economy?
Highest and best use principles are at the core of our operations. CERES ReBoxCo brings new life to timbers destined for landfill by creating beautiful planter boxes.
Fair Wood works with urban sawmillers to salvage high quality and often hard to find timbers that would otherwise be chipped and sent to landfill and our firewood product is also diverting what is considered waste wood and re-purposing it for a higher use. 
Can you share some exciting projects CERES Fair Wood have recently been involved with?
We are presently scoping and developing an urban sawmill. The sawmill re-imagines urban "waste" wood, salvaging these trees turning them into usable timber for use on urban projects, buildings and for furniture.
We also recently worked with the National Gallery of Victoria (NGV) to provide the structural timber for the 2023 Architectural Commission, Temple of Boom. We negotiated a 'buy back' model so that the timber will have another life long after the project is de-commissioned.
Lastly, we were fortunate to host an exhibition, Origin to Object, as part of Melbourne Design Week 2023. Fair Wood collaborated with 12 makers from our network to design and build a truly local and unique object of furniture.
Integral to the process was sharing the origin and story of the standing tree to timber. In sharing this information, we hope to highlight the connection that can be made when we carry forward the story and knowledge of a tree. Caring for that tree and its continuing story long after it has stood, through our responsible material selection.
The exhibition was a huge success with over 800 attendees and made the "Top 10 Exhibitions" for the week chosen by organiser Simone LeAmon.
The 2023 Green Design Hub at Decor + Design  & The Australian International Furniture Fair (AIFF) will be an unmissable opportunity to be inspired by the latest in sustainable design and a thought-provoking look into the future of the industry.
Decor + Design is Australia's longest running trade event for the interiors industry. Entry to the exhibition is free but limited to  the design trade – register now and start planning your trip to Melbourne.
Along with the latest collections from exhibitors, other features include the 20th anniversary of the VIVID Emerging Designer Awards, and the 2023 Seminar Series, in partnership with The Design Files. Key speakers this year include design luminaries Akira Isogawa, Brahman Perera, Adelaide Bragg, Charlotte Coote, Bree Leech, Briellyn Turton, Kerrie-Ann Jones and more. Register for free as a trade visitor to book a ticket, which range between $55 – 75.