Christmas is hovering on the horizon and it's time to get stylish about gifting! Here are some of our favourite products from our exhibitors at the Australian International Furniture Fair (AIFF), all of whom will be showcasing their latest collections at the 19th edition of the fair, 13 – 16 July 2023 at the Melbourne Exhibition Centre.
Glamping Chair From Lazy Maisons
Lazy Maisons brings many years of manufacturing experience, innovation and hard work to the table, producing high-quality furniture for the home and office.They are well known for their Standing Desks, which are backed by a 5 year warranty.
Lazy Maisons believe in continually adapting new methods for products that promote a healthy and supportive workplace, as well as durable items that last for years.
The brand also has a chic camping range, ideal for the Australian summer. We love the outdoor folding Aluminium Glamping Chair, which is perfect for fishing, camping and sketching. It's convenient and portable, as is the Camping Moon Chair pictured in the top image of this article.
Chelsea Furniture

AIFF Exhibitor Chelsea Furniture's raison d'être is service and quality combined with a knowledgeable selection of furniture. Originating in 1998 in the USA, Chelsea opened its doors in Melbourne in 2007.
Chelsea Furniture offer quality furniture ranges for the dining room, bedroom and living room, as well as stylish accessories and decor.
For Christmas, we love the Oxford Whiskey Decanter Set.
Jar Furniture
Jar Furniture offers a diverse range of quality furniture, with an in-house designer who creates unique products for their loyal customers.
The Kidney table from JAR's Zara Collection is a beautiful gift for someone who has just moved into a new home, or for an upcoming project.
Vesuvius Candle from Apsley & Company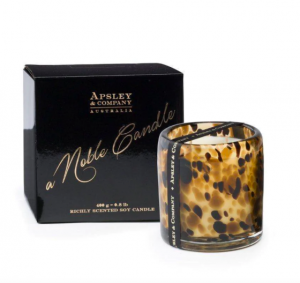 Melbourne-based brand Apsley and Company will be exhibiting at Decor + Design, which is co-located with the Australian International Furniture Fair (AIFF).
Apsley and Company create bespoke fragrances for luxury candles, in partnership with renowned European perfumers. Their skilfully curated range of cruelty-free luxury room diffusers and candles bring the uplifting power of fragrance and ambience into Australian homes.
We love Apsley and Company's Vesuvius candle, a delicate fragrance which comes in a stunning, reusable tortoiseshell glass vessel. It's available in a variety of sizes, from travel candles to large 2.4kg centrepieces.
Don't miss seeing Lazy Maisons, Chelsea Furniture, JAR Furniture and Apsley and Company at the next Australian International Furniture Fair & Decor + Design! Subscribe now to receive information on exhibitors and the latest furniture trends.