The Australian International Furniture Fair (AIFF) & Decor + Design is elevating this year, with an increased focus on Australian Made and socially conscious design. Cosentino, one of the world's leading surface brands, will be sponsoring an exciting new feature: The Green Design Hub.
Curated by Circular Design Thinking, The Green Design Hub will be a deliciously interactive and sensory space where visitors can experience the latest innovations in stylishly sustainable, closed loop furniture and design products. It will also feature products available to the industry right now, from beautiful brands including Armadillo, Enviro Hide, Cultivated, AMP Circular, E9 Design, Hameland, Cosentino, AH Beard, Zepel Fabrics, ResiLoop and TRAKS Textile Recycling.
Cosentino: Beautifully Designed and Made Surfaces

Cosentino Group is a global, family-owned company that has an innovative research and development program, which emphasises respect for the environment. The company produces design solutions that offer value and inspiration to people's lives, including Dekton®, the only Cradle-to-Grave Carbon Neutral surface on the market.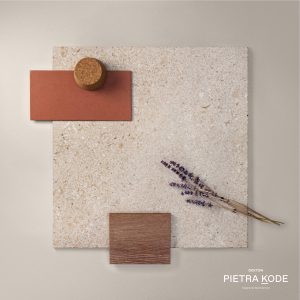 Meet Dekton: The Carbon Neutral, Designer Stone
Dekton is the only Cradle-to-Grave Carbon Neutral surface on the market. Cosentino offset 100% of the CO2 emissions over the entire product life cycle. Interior designers can create soulful spaces with a beautiful surface that combines beauty, functionality and sustainability.
It has also effectively recoded natural stone, upgrading it through technology into an ultracompact surface. Dekton is a sophisticated mixture of more than 20 minerals extracted from nature. Dekton's exclusive press then generates 25,000 tonnes of uniform pressure. To put that in perspective, that's 2.5 times the weight of the Eiffel Tower!
This ultra-compaction process means that Dekton has no micro-defects that cause tensions or weak points and almost null porosity. It perfects in a few hours what nature creates in thousands of years.
Pietra Kode: Responding to the Demands of the Architecture of the Future
Cosentino has just released a stunning new Dekton collection called Pietra Kode, in collaboration with designer Daniel Germani.
Pietra Kode reinterprets the timeless beauty of three classic stones: Vicenza stone, Travertine marble and Ceppo di Gré. These natural and elegant designs are capable of transporting us back in time; rich in nuances, colour and textures which create a sensory experience that goes beyond the eye.
Celebrating Sustainable Innovation at The Green Design Hub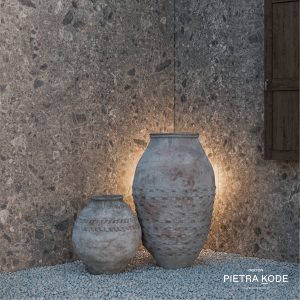 The Australian International Furniture Fair (AIFF) & Decor + Design will take place from 13 – 16 July at Melbourne Exhibition
Centre, with the theme of Elevate. The 19th edition of Australia's premier trade event for the interior design industry, 2023 will see an increased focus on Australian Made and Socially Conscious Design.
A new feature in 2023, The Green Design Hub perfectly aligns with the values of Cosentino.
"Sustainability is a core value of our business," says Alexandra Tomasi, Marketing Manager – Oceania for Cosentino.

"Being at the 2023 Green Design Hub is a no-brainer for us to show to the public that sustainability is a priority for Cosentino, and help the visitor to understand that low silica, carbon-neutral and high-performance stones are already here in Australia. For Instance, 100% of the electricity used in Dekton's production comes from renewable sources."
"At Cosentino, we recover and reuse waste. We are the only company in the sector with its own waste recovery plant. We use recovered or recycled raw materials in the manufacture of our products and we are constantly researching a new generation of sustainable composite materials."
*Our carbon footprint is calculated and verified by accredited third-party organization, with the approval of MITERD (Spanish Ministry for Ecological Transition and the Demographic Challenge).
Be inspired at The Green Design Hub, Curated by Circular Design Thinking, at AIFF & Decor + Design, 13 – 16 July at Melbourne Exhibition Centre. Other features at the show will include the First Nations Design Collective, Atelier Avenue, VIVID Design Awards and the Seminar Series. Register now as a trade visitor and start planning your trip to Melbourne!