We're delighted that Cycling Bears will be exhibiting at Decor + Design and The Australian International Furniture Fair (AIFF), 13 – 16 July in Melbourne. With the theme of Elevate in 2023, we'll be putting an increased focus on beautiful but socially conscious design. Cycling Bears fits the brief perfectly. The Singapore-based brand designs and customises stylish, sustainable fitness spaces and equipment for hotels, private clubs, homes and yachts.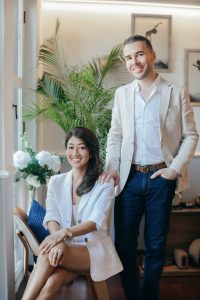 Cycling Bears was founded by husband-and-wife team Debra Jay and Tudi Guillamot in 2022. What originally started as a side hustle in Singapore has quickly exploded, with global projects and a rapidly expanding team working with individual clients, hoteliers, interior designers and architects.
Debra and Tudi draw on diverse experience from different industries. Debra heads up the Ultra High Net Worth team for Singapore and Malaysia at the world's largest wealth manager. She has been a career banker for over 20 years, but also studied Interior Design and completed a NASM (National Academy of Sport Medicine) course in designing home gyms.
Tudi trained as an engineer, currently heads up sales for Asia Pacific for a European fire protection company and is an avid cyclist. In fact, Cycling Bears has its roots in Tudi's nickname "Tudi Bear" and his zeal for cycling. Cycling Bears started with customising road bikes for fellow enthusiasts.
As the proverb goes, necessity is the mother of invention. "During the pandemic, we bought our own fitness equipment so we could exercise at home," says Debra. The equipment was bulky and unsightly, and we found ourselves scrambling to stow it away when guests came over."
"This inspired us to think about how we could find gym equipment that was functional yet beautifully designed to blend in with surrounding aesthetics. With Cycling Bears, we hope to meet this gap in the market for bespoke luxury fitness equipment, the kind that homeowners want to invite their friends over to admire."
With Cycling Bears, Debra and Tudi have assembled a team of like-minded people who love fitness and beautiful interiors, specialising in Interior Design, Fitness & Wellness Consultancy, Public Relations, Digital Marketing and Business Development and Sales.
Form Follows Function for a Beautiful, Sustainable Aesthetic
Cycling Bears offers fitness equipment made of natural materials like wood, leather and marine-grade stainless steel, catering to discerning individuals who want bespoke equipment that is not only smart, practical, sustainable and customisable but will also match the overall look and feel of their homes.
"The overall brand aesthetic is one which is calming to look at, and at the same time would entice you to want to work out with it," says Debra.
"We also typically only work with brands which offer equipment that use ethically and sustainably sourced materials, do not have any planned obsolescence and have strong ESG standards."
A Three-Step Design Approach
For Cycling Bears, no two projects are identical. They work with their individual clients, interior designers and architects to create the perfect fitness space, following a three-step process.
"We first understand the user's fitness preferences and goals, so that we can identify the equipment that is required. Secondly, we work on spatial planning when specifying the equipment."
"Finally, we work on the aesthetic customisation – materials, colour and personalisation. Yes – you can add your own monogram on some of our products!" Upon order, the products are then handmade in Europe – Poland, Germany or Italy depending on the brand.
Crafting Stunning Fitness Spaces for Luxury Hotels and Homes
The products which Cycling Bears carries have been included in some of the world's top hotels. For example, PENT products have been used in luxury establishments such as The Maybourne in Beverley Hills, Resorts World in Las Vegas, Claridges in London and the Cycling Bears team is currently working with the iconic Marina Bay Sands in Singapore to include PENT's products in some of the most luxurious suites. 
The Ciclotte Bike is also in top global hotels such as the W Hotel in Singapore and Taipei and the Royal Monceau in Paris.
However, most of Cycling Bears' clients are homeowners, either building a new residence or renovating their home and refreshing their home gym.
"Our projects range from a single water rower or dumbbell and yoga mat to a full gym design. We love creating a sanctuary for our clients where they can feel calm enough to meditate but also explode with energy with cardio exercises!"
"There have also been a few luxurious property development launches, where we have helped with the staging of the show flats."
Design a Fitness Sanctuary
Every order from Cycling Bears involves a unique level of customised design. "Our team of fitness professionals, wellness coaches and interior designers design the layout and styling of our client's fitness spaces, keeping in mind their fitness goals and other preferences. The final products are also customised to match the rest of their space."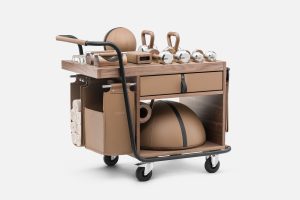 Most of Cycling Bears' brands are fully customisable, from the type of wood to the colour of the leather. They also offer personalisation, with embroidery on the leather or engraving on the wood for PENT's products, so you can personalise them for yourself or for gifting to your loved ones.
See Cycling Bears' gorgeous products for yourself at Decor + Design and The Australian International Furniture Fair (AIFF), 13 – 16 July at Melbourne Exhibition Centre. They will be exhibiting three different brands – PENT, Ciclotte and Stil-Fit, showing how they blend in seamlessly together, creating a beautiful sanctuary that would entice you to want to exercise.
"We will be showcasing some of the most beautiful fitness equipment – including the PENT Sophia, which is a mobile gym that looks like a drinks trolley. We will also have the Ciclotte Teckell exercise bike made of crystal. It will be the first time that some new brands like Stil-Fit will be exhibiting in Australia." – Debra Tay, Cycling Bears.
Don't miss Decor + Design and The Australian International Furniture Fair (AIFF). The co-located events will take place from 13 -16 July at Melbourne Exhibition Centre and feature leading exhibitors across indoor and outdoor furniture, soft furnishings, lighting, textiles, kitchens and bathrooms and art. Register now as a trade visitor to see Cycling Bears at the exhibition!
The 2023 show will also host features including the Green Design Hub curated by Circular Design Thinking, Atelier Avenue, VIVID Emerging Designer Awards and the Seminar Series.