Sustainable furniture continues to be THE hot topic in the design world. Buying with an eye for the planet is top of mind for many consumers. So we're very excited that SLH Furniture will be exhibiting at Decor + Design and the Australian International Furniture Fair (AIFF), showcasing the sustainable Danish furniture brand HOUE, for whom they are the exclusive Australian distributor.
With AIFF & Decor + Design drawing closer, we talked to SLH Furniture co-founder Damian Barry about the company and why they are looking forward to the trade show, 14 – 17 July at Melbourne Exhibition Centre.
Damian, can you tell us a little more about the company and your driving aesthetic? 
The SLH Furniture journey started long ago, with two university buddies exploring through Indonesia and discovering all the amazing furniture and homewares the country has to offer. It was there they were emboldened by their passion for the eclectic to open a tiny studio, originally in the heart of Sydney's CBD, where they began selling what they sourced, with a focus on ethical and sustainable furniture.
The company has gone from strength-to-strength, growing to encompass brands including SLH Furniture, Mamagreen, Karpenter, Kleo, Nofu and HOUE.
At SLH, we value authenticity, artisanship and sustainability. We do our best to support original design and believe in the importance of being kind to our dear Mother Earth, which is why we source only environmentally friendly products and materials. We only supply the best when it comes to product quality and manufacturing, and we have only been able to expand as a business because we pride ourselves on excellent customer service.  
The market for recycled and upcycled furniture manufactured under free-trade and ethical work conditions has driven the business since we started, forcing us to again expand our warehouse in 2013 to the Lilyfield complex and showroom where we remain today.
Clients include corporate fit-outs for Network 10, Global Marketing, popular Sydney hospitality location Employees Only and many more. Another recent project was Chalets in the Blue Mountains, with outdoor furniture by HOUE and other SLH Furniture brands Mamagreen and Karpenter.
You'll be exhibiting under the Danish brand name HOUE at Decor + Design. When did the relationship between SLH Furniture and HOUE start? 
SLH and Houe started working together in 2021. SLH is now the exclusive distributor of HOUE in Australia.
HOUE is a Danish design house founded in 2007. They combine great comfort and design, always putting a lot of effort into product development and striving to meet a high standard of craftsmanship.
The products are manufactured only in well-established factories with whom HOUE have worked closely for several years. They are not random mass production – every detail, joint or component in the furniture  is thoroughly chosen or invented by the experienced HOUE team to make a unique product.
The brand is driven by affordable luxury as a philosophy, with the right materials and solutions. HOUE draws from a proud heritage of Scandinavian design and craftsmanship with mass appeal.
HOUE offers both an outdoor and indoor collection, both of which meet high standards in terms of design, price and quality.

In 2022 there will be a new Sustainability Hub at Decor + Design, curated by Design Matters National. How important is sustainability to both SLH Furniture and HOUE?
At SLH, we are conscious of our environmental footprint, as are our suppliers. We use FSC accredited recycled teak from various suppliers, or ethically sourced European Oak, and American Black Walnut.
Upcycled mixed hardwood timbers are purchased and obtained from decommissioned fishing vessels from North Java. These timbers are combined with powder coated steel, & other locally acquired materials to create unique & eclectic furniture for SLH. Utilising local materials & upcycled materials in turn reduces our carbon footprint.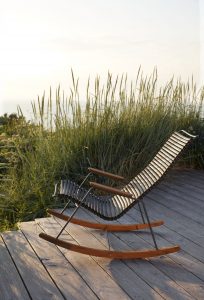 HOUE furniture is designed not only with comfort and style in mind, but the environment. Made from recycled waste, it looks just as good as it is for the planet!
The FALK, NAMI and ReCLIPS collections rom HOUE all have a clear signature look and cushion free comfort. ReCLIPS uses recycled plastics to create gorgeous outdoor furniture.
The HOUE stand at Decor + Design and the Australian International Furniture Fair (AIFF) will be essential for visitors looking for quality, affordable, comfortable and sustainable furniture.
Find HOUE at Stand B22! Register now and start planning your trip to Australia's premier buying and networking event for the furniture industry.