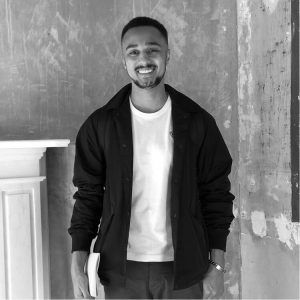 Last year was hardly a podium year for most people, particularly for Melbournians enduring the longest Covid lockdowns in the world.
However, creativity can thrive when the chips are down and 2021 ended up being a winner for Dean Norton. The Melbourne-based designer was awarded the 2021VIVID Judges Choice Award for exceptional pieces which were crafted at the height of the pandemic.
Sponsored by Laminex, the award is the major prize at the VIVID Awards for emerging designers, which usually take place at Decor + Design and Australian International Furniture Fair in July. The shows have been on 'pandemic sabbatical' but will be returning to the Melbourne Exhibition Centre from 14 – 17 July 2022. In 2021, the VIVID Design Awards instead took place at Showroom by Bowens in Port Melbourne.
The judges loved the two pieces that Dean entered into the competition – a transparent pair of side tables from his FLOAT collection and the DAYLIGHT lamp.
Dean Norton launched his eponymous studio in 2017, drawing on his design experience to create visually engaging, locally made pieces including furniture, objects and lighting, reimagining sculptural forms through the exploration of finishes and materials such as glass, mirror, steel and timber. His works consider form and function but also refined detailing and harmony in materials.
Originally from the UK, it seems it was always in the stars that Dean would end up in Australia. He got to know the country when he was travelling in his twenties, then met his Australian partner after he returned to London. Having originally studied graphic design, Dean completed a Bachelor of Arts degree (Hons) in Retail Interior Design at The University of Arts London (2008) before settling in Melbourne with his partner.
Dean says the interior design industry in Australia is similar to England in terms of the workflow and briefing jobs. However, he thinks that the Melbourne design industry takes a more conscious approach to design.
"The design community in Melbourne is very supportive of each other and there's a real focus on thoughtful design. It's important that the work is a narrative experience and tells a story."
The impact of the local scene can be seen in Dean's design aesthetic, which builds a story and harnesses local makers. The scenery has also played a part. "Australian designers are definitely inspired by the landscape and colour palette and that also rings true in my work."
Drawing inspiration from contemporary influences, he always seeks to design pieces that connect on an emotional level, merging a balance between art and design whilst maintaining a minimalist design aesthetic.
Dean always works with local makers and uses materials that last, such as glass, timber and steel. "I design things that will last forever and hopefully be passed down through generations," he says. What's more sustainable than that?
FLOAT

The Float collection explores transparent form with subtle overlay of texture, transforming simple tables into light shape-shifting pieces. Made entirely of glass, FLOAT's seamless form changes depending on the viewing angle.
"I started the Float collection during Covid. I really had to strip down the design process. Usually when designing I'd use a range of makers for different parts – metal spinners, fabricators etc. As I was confined to my studio, it needed to be something that I could make myself. The concept also plays with the ideas of fluidity and transience."
DAYLIGHT
Designed in 2020 for alt.material 4, 'Daylight' responds to the brief of 'ingenuity' and creating something that is beneficial for others and addresses social isolation.
"Being from the UK, SAD (Seasonal Affective Disorder) is an issue, and can be in Melbourne too! I work out of a converted garage which doesn't have a lot of natural light. The concept of Daylight came from the idea of light therapy and a light box with a designed form."
Dean says that winning the VIVID Judges Choice Award has been incredibly meaningful.
"I work on my own, which can mean being quite isolated in terms of the creative process. Putting out a piece can be nerve-wracking and having it well-received in VIVID is humbling. It makes me feel like what I'm doing is important."
"VIVID Design awards is great if you're starting out and exploring new ideas. There's so much noise with social media, and you really want to create something original and that you're happy with."
"Being supported by the industry is so important, especially by people you look up to. It's the kind of recognition that gives you confidence."
2022 is off to a good start for Dean. He's just finished a custom creation for Aesop's Karrinyup store in WA. 'Mood Side Chrome' is a visually light, sculpturally strong table with a recessed clear glass top and curved chrome plated mirror polished steel base. Aesop were attracted to Dean's elegant and minimalist aesthetic via Instagram, "which shows that social media can be a necessary evil!"
He's also just finished a stunning timber table – Mood Side Wood + Resign. It's a sculpturally strong wood turned table with a clear, lightly frosted 5mm resin top, fused into a contrasting solid pine base.
With no visible fixings and elegant continuous curves that emphasize the natural grain, this minimal piece will merge with and warmly enhance a space. Dean says he'll also be focusing on smaller objects which are easier to produce in his workshop, such as vases in the Containa collection. Be inspired by his progress on Instagram @deannorton
If you're an emerging designer with less than five years in practice, the 2022 VIVID Design Awards could help kickstart your career. Find out more about VIVID and put the Australian International Furniture Fair and Decor + Design in your diary, 14 – 17 July at the Melbourne Exhibition Centre.
Photo Credit: Article Feature Image of Mood Side Resin + Wood taken by Luc Marlowe