A veteran of Australian furniture manufacturing, Steve Layton has seen lots of swings and roundabouts in the industry; from local production to the push offshore to Asia and the new drive to bring it back home. In 2014, Steve became disillusioned with the 'Fast Furniture' mentality of the retail industry, which pushed products into landfill. He started EmTech – Environmental Material Technology – to focus on producing high-quality circular materials that reuse waste and theoretically have an infinite life.
We're delighted that EmTech will be showcasing their beautiful recycled leather Enviro Hide at the 2023 Green Design Hub at Decor + Design and the Australian International Furniture Fair (AIFF). As Australia's longest-running trade events for the furniture and interiors industry, we're using our platform to shine an increased light on Australian Made and socially conscious design.
Enviro Hide by EmTech is a revolutionary material that is a real, functional alternative to leather. It is a fully circular product that is made from recycled leather products and offcuts. Enviro Hide uses 90% less water and is 20% stronger than split leather, passing all tests on the use of harmful chemicals in manufacturing.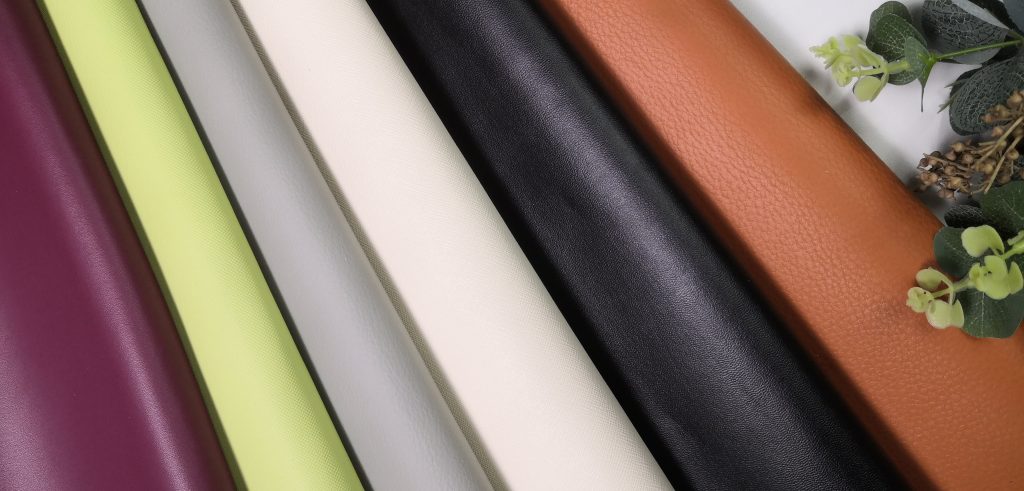 The pollution from leather tanneries has long been a problem for the industry, as is discarded leather goods ending up in landfill because traditional recycling facilities can't handle them. EmTech takes used leather goods and also the offcuts from  tanneries and strips them of their chemical PU coating – something which almost all leather goods on the market are subjected to. They are then pulped, 'squelched' and mulched, the material rolled into new leather and coated with a water-based PU coating.
Enviro Hide can be used anywhere that traditional leather is used, from OEM materials (e.g., automotive and aviation seats) to sofas, armchairs and all sorts of interior design products for both commercial and residential projects. It has been causing a stir since its release in August 2022, winning a prestigious Gold medal at the Australian Good Design Awards, recognising exceptional design, innovation and sustainability. It has also achieved Global GreenTag PlatinumHEALTH™ and HealthRATE™ certification.
The team at Enviro Hide can also work collaboratively with interior design and furniture clients to achieve the texture that they desire in the final product.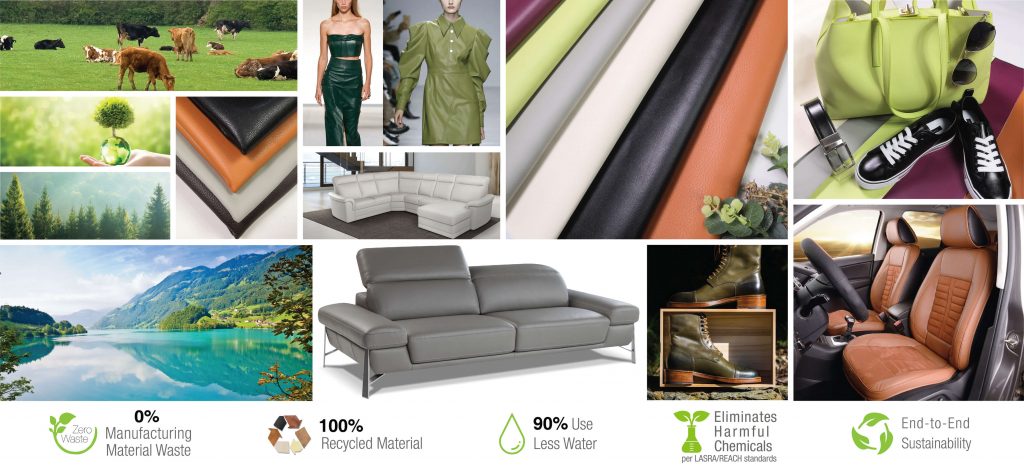 Currently, the production of Enviro Hide is still taking place in China, thanks to the infrastructure Steve's companies already had there, plus the fact that most leather tanneries are based there, meaning they had access to the volume of offcuts required. Australia has very few operational tanneries. EmTech have a medium-term strategy to manufacture Enviro Hide and other environmental materials locally. However, the manufacturing landscape in Australia needs investment to make it more sustainable and viable.
Steve says that while the emphasis on environmental materials is growing, the 'green design wave' needs more incentivisation to really gather traction. "The cost in manufacturing environmental materials is still much higher than other methods, plus it's still more feasible to take it offshore," says Steve.
"Incentivisation from the state and federal governments will go a long way towards encouraging sustainable manufacturing and production in Australia."
Continuing consumer education is also key. Getting consumers to think more 'circular' and question the lifecycle of the products they consume, thus pushing manufacturing and retailers to produce those products, is a fundamental part of the change. Says Steve:
"Out of 100 people, there will be 30 who will purchase sustainably whatever the messaging. There will be 30 who never will. Then, there are the rest who haven't really made up their mind or thought about it. It's that middle ground that we need to appeal to and swing towards circular design."
The 2023 Green Design Hub will be an exciting new feature at Decor + Design & AIFF this year, and is being curated and styled by Karie Soehardi of Circular Design Thinking. It will take visitors on a journey into what real sustainability looks like for the interiors and furniture industry. It will also feature innovative products available to the industry right now, from brands including Enviro Hide by EmTech, Cosentino, Armadillo, A.H Beard, Cultivated by Cult Design, Hameland, E9 Design, Zepel Fabrics, ResiLoop, TRAKS Textile Recycling and more.
Register now as a trade visitor to experience Enviro Hide in person at the Green Design Hub. Decor + Design is Australia's longest-running trade event for the interiors industry.
2023 is the 19th year of Decor + Design. See hundreds of exhibitors across indoor and outdoor furniture, textiles, soft furnishings, art and lighting, we well as influential speakers at the 2023 Seminar Series, in partnership with The Design Files.