Wood can be harnessed as one of the most sustainable and aesthetically-blessed materials in furniture. Here are three pieces from 2023 exhibitors at The Australian International Furniture Fair (AIFF) & Decor + Design, all of which elevate wood…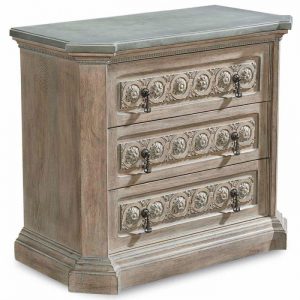 Chelsea Furniture – Gabriel Bedside Table
The Gabriel Bedside Table from AIFF exhibitor Chelsea Furniture is an impeccable statement piece. Crafted from parawood solids and cathedral elm veneers, it is available in Parch, a light open-grained finish with a worn, sun-bleached look.
Baltic Chair – M + Co Living
An ode to warm Nordic minimalism, the Baltic Chair by M + Co Living is designed to harmonize with contemporary life. Elegant and compact, with a clean, solid wood frame, it imparts a feeling of calm and lightness. Its curved arms join at the back to create a sculptural form that can be admired from every angle, with chamfered edges for a supremely touchable finish. We love both the Canyon Whisky Leather/ Walnut (below) and the Ash/Velvet Russet (top image).
M + Co Living will be exhibiting at Decor + Design, co-located with the Australian International Furniture Fair (AIFF).
Cayman Round Dining Table – Idiom Furniture

Founded in 2001, Idiom Designer Furniture offers contemporary and modern products and are known for delivering superior customer service and stunning furniture.
We love the glass-topped Cayman Round Dining Table, with a strong architectural base made from Walnut or Oak.
Keen to see more? The Australian International Furniture Fair (AIFF) & Decor + Design will take place from 13 – 16 July 2023 at Melbourne Exhibition Centre. Together they form Australia's most important annual destination for the interior design industry.
See exhibitors across indoor and outdoor furniture, soft furnishings, lighting, textiles and art. Register now to visit – entry to the exhibition is free but limited to trade only.