For interior design clients in urban areas who yearn for a simpler life, the 'Farmcore' aesthetic is a way of bringing the romance and elegant simplicity of country living into the city via furniture and soft furnishings.
Also known as 'Cottagecore' or 'Countrycore', at its heart this trend is a yearning for harmony with nature. The colour palette complements the outdoors, with hero shades like dark green, grey, yellow, muddy brown, or cream white. Earthy tones also work well, such as mustard, teal and rust. Materials are woven, plaited, tactile or with a rustic feel.
If you're looking for 'Farmcore' products for a project, we have three gorgeous pieces to get you started, all from exhibitors at Decor + Design & The Australian International Furniture Fair (AIFF), which will take place 13 – 16 July at Melbourne Exhibition Centre.
Woven-Look Outdoor Furniture From Couture Jardin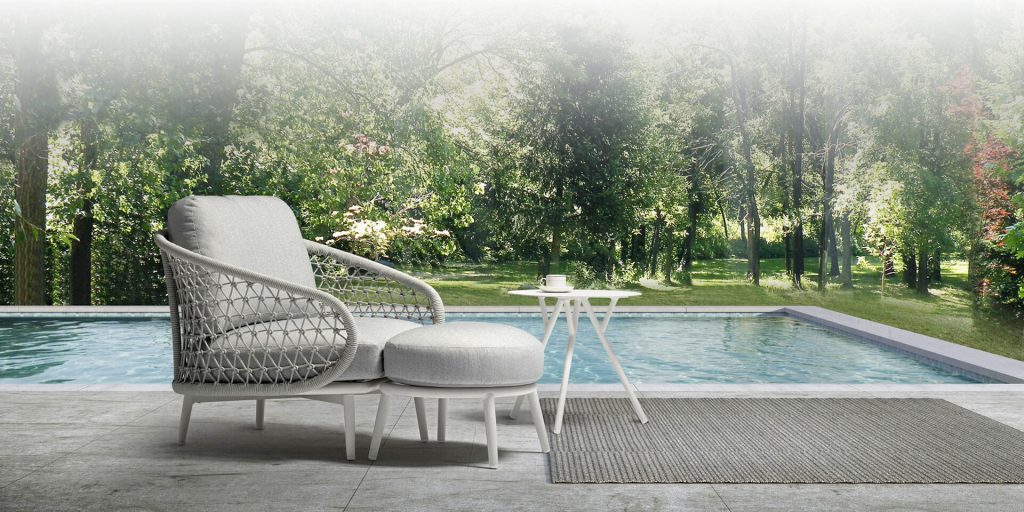 Couture Jardin is a family-owned company of contemporary outdoor furniture, founded in 2010 by Canadian designer-entrepreneur Normand Couture and his son, Philippe.
We love the exquisite 'Cuddle' Collection of outdoor furniture, with its sculptural shape and expert weaving.
Netted 'Nardi' Collection From Design Initial
Established in 2004, Queensland-based Design Initial Furniture offers extensive collections of internationally renowned home design furnishings. Their unparalleled commitment to quality is reflected throughout their entire product range, exhibiting unique aesthetics and hand-crafted excellence.
We love the rustic feel of the 'Nardi' Collection, made from perforated fibreglass resin for longevity – pictured in the feature image for this article.
Australian Hand-Printed Fabrics From Ink & Spindle

Complement your 'Farmcore' furniture with gorgeous Australian textiles from Ink & Spindle. Based in Abbotsford, Melbourne, Ink & Spindle are passionate about creating textiles that have minimal impact on the earth. Using organic cotton/hemp and eco-linen base-cloths sourced from Certified Mills, they ensure that their textiles have inherent longevity and are free from harmful chemicals.
We love the 'Eucalyptus in Mist' print, which perfectly complements a country aesthetic. Designed by Caitlin Klooger, it is hand-printed with organic certified, eco-friendly inks.
See the latest collections from Ink & Spindle, Design Initial and Couture Garden at Decor + Design and The Australian International Furniture Fair (AIFF), 13 – 16 July at the Melbourne Exhibition Centre, along with hundreds of other brands showcasing a range of aesthetics across indoor and outdoor furniture, soft furnishings, lighting, textiles and art. Register now as a trade visitor and start planning your trip to Melbourne!