Furniture and interior design trade shows have made a very welcome return in 2022! The Australian International Furniture Fair (AIFF) & Decor + Design returned to Australia's design capital of Melbourne in July 2022. With 8000+ trade visitors over four days, the combined events featured inspiring collections from leading Australasian exhibitors across indoor and outdoor furniture, soft furnishings, lighting, art and textiles.
In Europe, the 60th edition of the Milan International Furniture Fair took place in June, with the world's design metropolis once again sparkling with remarkable creativity. Here are the major design directions we spotted in both cities which will dominate design in the coming year.
THE NEW BOUCLÉ
Bouclé has been everywhere in furniture the past few years. The French word refers to a looped, nubby style of yarn, as well as the fabric that can be woven from it and is famously used in Chanel jackets. The high-texture textile adds depth and interest to interiors and has been particularly popular in neutrals and off-white. Bouclé became more multi-faceted in 2022, seen in deeper colours such as rust and citrine.
At Milan's Salone del Mobile, the Fratelli Boffi stand was perhaps the perfect ode to bouclé, with rusts, purples and greens all working together in perfect harmony. The materials also had a more refined texture than previous incarnations.
In Melbourne, Decor + Design favourites Darcy & Duke had a hit with their burnt orange boucle armchairs (centre, below).
ELEVATED SUSTAINABILITY 
Sustainable design has become a major focus in the design world and will only become more sophisticated, with the quality of sustainable furniture higher than it's ever been.
M + Co Living exhibited for the first time at Decor + Design and The Australian International Furniture Fair in 2022 and impressed with stylish in-house collection. They are also the Pacific distributor of the Gus* Modern brand; sustainable furniture that combines comfort and high style with low environmental impact.
The Gus* Modern Vegan AppleSkin™ Leather sofa was a favourite with Decor + Design visitors, where it was on display at the Design Matters National Sustainability Hub.
Vegan AppleSkin™ Leather is a new, eco-friendly upholstery material that offers an exciting new option for customers searching for a quality alternative to leather. Formed by upcycling discarded fruit fibre into a durable covering that retains the classic aesthetic of natural leather, the material is a standout. Designed and manufactured in Italy, the material was created to re-purpose the food remnants of the country's apple orchard and juicing industries, and to answer a global call for an alternative to natural leather.
Sustainability and durability were in focus at Milan Design Week, such as at the Urban Matter(s) exhibition. Often they were addressing long-standing challenges in design recycling, such as zips on cushions and covers. One of our favourite innovations was from the YKK brand, which launched a series of NATULON® recycled zips made with ECONYL® regenerated nylon, composed entirely of nylon waste.
CRAFTED REMNANTS
A major theme in Milan was respect and empathy for nature, as well as the value of craftsmanship and the use of raw natural materials or recycled 'found objects'.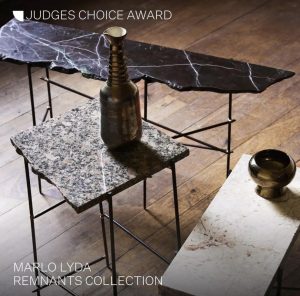 In Melbourne, the VIVID Design Awards are always a highlight at Decor + Design and the Australian International Furniture Fair (AIFF), now in their 19th year. Australia's longest running competition for emerging designers, the awards program shines a light on fresh talent across Furniture, Lighting, Object, Colour and Concept Design.
Marlo Lyda won the 2022 VIVID Judge's Choice Award with the gorgeous Remnants Collection. Normally, small or cracked pieces of stone are deemed a nuisance or discarded. In Remnants Collection, these imperfections are collected and coaxed back into the limelight, forming coffee and side tables. The restored stones sit atop custom-made frames, bound by meticulously wrapped copper.
CURVED FURNITURE
Curves have been making waves in sofa design. Sharper, minimalist lines have been replaced by armchairs and sofas that cocoon in a comforting embrace. At the Australian International Furniture Fair (AIFF), there were a number of strong curved pieces from international furniture brand HTL (top image of this article).
AIFF exhibitor and German furniture giant Himolla also exhibited a collection of deeply ergonomic sofas, made from the finest leathers.
GEO-SURFACES
Geo-surfaces, either natural stone or mineral-inspired prints, were everywhere in Milan too. Sicis had a spectacular display  at their stand – featured in the top image for this article.
There are a lot of factors at play when it comes to designers and architects sourcing the right stone for a project. A beautiful aesthetic is important but also needs to be supported by durability and sustainability.
AC Stone's ability to tick all of the above is fast making the group a leading supplier of engineered quartz stone and porcelain products for Australian interiors. Their stand at Decor + Design was buzzing with visitors, impressed by the quality and versatility of their products. 
The Australian International Furniture Fair (AIFF) will be back at the Melbourne Exhibition Centre from 13 – 16 July 2022, co-located with Decor + Design. Register your interest now to receive show updates, as well as the latest news and design from the world of interior design.