Stars are born every year at the Australian International Furniture Fair (AIFF) and Decor + Design, when the VIVID Design Awards attract the best in emerging design talent. In 2022, Newcastle designer Georgia Weitenberg (left) took out the Furniture Design award with an irreverant interpretation of classic Thonet bentwood chairs. Her Bent Wood Chair plays with perception and nostalgia to form an evocative, memorable piece of furniture.
We spoke to Georgia about her design inspirations, practice and what the VIVID Design Awards mean to emerging designers.
Georgia, what has your journey entailed to become a designer? When did you first become interested in design?
My formal training started with Architecture at Newcastle University, but I eventually arrived at Furniture Design (at UTAS, Launceston) out of an interest to explore a more hands on approach to design. I really enjoyed getting into the workshop and learning the technical skills required to make things.
I think I've always been interested in design in some way. Dad is a marine engineer. When I was a kid, I'd love to watch him work in the shed. It seemed so impossible to have that level of understanding of things, to create something useful from nothing. I always aspired to that. Growing up in a small town also meant my siblings and I had to be a little more creative in finding things to do in our spare time. Most afternoons were spent in the bush, imagining other worlds or inventing new games to play. We were always making something.
How would you describe your design approach and aesthetic?

My design approach is fairly intuitive, but is very much informed by the material, and traditional working techniques. I start with understanding how and why things have been done in the past so that I can explore a new interpretation. My aesthetic is always evolving, but I guess there's always a certain rationalism or minimalism in the final product. When I'm designing, all avenues and doors are left open for exploration. However, the end result is always something precise and essential. I'm trying to uncover something inherent in a material and simplicity usually works best to convey this.
Your VIVID-winning Bent Wood Chair challenges taste conventions in its exploration of form and scale. Can you tell us about the ideation and creation of this piece?

The Bent Wood Chair was designed in response to a brief for the group show 'Faux Pas' by New Assemblage. The theme challenged designers to explore concepts outside of the established conventions of good taste.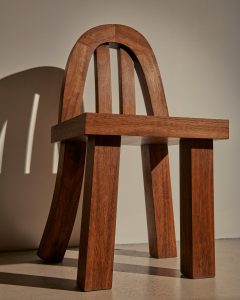 Bent Wood Chair (left, photographed by Lauren Bamford), was a very direct response to this, kind of an ironic one-liner in the sense that it is a wry description of exactly what is perceived, but also alludes to the famous Thonet ideal, which by comparison stands in direct opposition to the Bent Wood. The contrast of the awkward, stocky proportions should be the thing that makes the chair 'not right', or in bad taste but instead becomes something endearing. I guess it also touches on ideas of how the objects from our childhood condition our ideals of domesticity and taste, this chair looks like something from a doll house or from a cartoon. In the same sense it explores how scale affects design, and how things designed in miniature, resized to human scale, always come out a little strange.
The Bent Wood Chair is handcrafted in Newcastle, by a local craftsman and good friend. Each component is shaped from solid timber by hand using a relatively simple set of machines and tools, the process is labour intensive, given the bulk and weight of the assembled piece, but I love that each chair is made slowly, and with care. Working with craftspeople is always my favourite part of a project, to see them work and watch their mastery and dedication is something I always find so inspiring.
What current projects are you working on? What's next?

I'm currently working to move down to Melbourne – ideally, early next year. Newcastle is my home and a great place to live, I've always preferred the slower pace of smaller towns, it's why I chose to study in Tasmania, but I guess it can also be somewhat limiting in terms of the opportunities that are readily available. In moving to Melbourne, I'd like to find meaningful and engaging employment to supplement my design practice while I work to establish myself as a designer.
Having said that, my project for the summer is to experiment with pieces made from found wood. I see it as an exercise in sustainable design or a kind of radical localism using old logs from the bush and from the beach near my home. The idea is to use those imprecise, pre-shaped pieces to guide the eventual form. I guess the idea is get back to making without so much focus or pressure on the end result, more just a study of process. I'd like to explore new materials as I go along, most of my work so far has been in wood, but I'd love to understand the potential of metal and glass too, so this is another area of focus going forward.
Why are the VIVID Design Awards important for Australian emerging designers?

Speaking from my own experience, designing in isolation can be difficult at times. It's so nice to have the chance to meet with a fraternity of people who share the passion and unique struggles of being an emerging designer. The recognition from within the industry is a real vote of confidence for someone like me, who might not otherwise have that audience or existing network working outside of a major city.

The internet is a great resource and geography has become less of an obstacle but there's nothing that can compensate for real world, human interaction!
Applications for VIVID 2023 will open in January 2023. Subscribe now to stay in the loop for VIVID and also Decor + Design, Australia's most important trade event for interior designers, decorators, retailers and more.