If you're looking for stylish tables with a fun aesthetic and serious sustainability credentials – you've come to the right place. Introducing Hameland, who will be contributing to the 2023 Green Design Hub at Decor + Design & AIFF, 13 – 16 July at Melbourne Exhibition Centre.
Art and design have always played a major part in Hameland founder Paulie Fenton's life. He grew up surrounded by it, before studying Graphic Design in Perth and moving into Art Direction for advertising agencies in Sydney and, for some time, in the US.
The seed for Hameland began germinating while Paulie was watching his two-year-old daughter Tiger drawing and painting at a little table.
"It got me thinking and doodling with some designs to create something a bit more interesting she could be sitting at. Those initial scribbles, although heavily evolved, became the start of the brand which only took fifteen years to realise!"
Customisation and giving customers the tools to create bespoke designs easily through the website is a key feature of Hameland. With five table sizes and various coloured insert design options, there are plenty of customisable options to choose from on the site.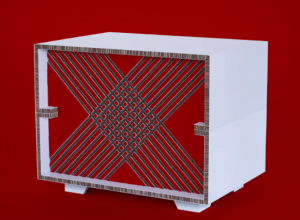 The design aesthetic of the tables nods to Paulie's heritage, such as the Nile Stay table (left). "I was born in Scotland, so I also wanted that to inform the brand in a subtle way. That influence plays its part in the naming of the five designs, the various insert option designs, the colour palette and the branding as well. But I don't think you would look at the brand and think…'Oh, that's a Scottish brand'. It just has a wee part to play in the story."
Circular design is the nucleus of Hameland. "I definitely wanted to do something flatpack and without screws, nuts or bolts etc," says Paulie. "I also wanted to make sure that there was very little or no wastage in whatever material I was using. Those parameters guided me to use a lot of 90-degree cuts and angles in the design and prototyping stage, which resulted in simple variations of six-sided cubes, if you like."
The Hameland collection is created using a 100% recyclable paperboard, that's lightweight but super strong. "The fluting design on the interior of the board is one of its secrets to its light weight and strength – you can stand on any of the Hameland tables!" The board uses water-based adhesives and all the inks in the Hameland colour palette are also Green-certified.
"And being 100% recyclable, they can go straight back into the wastepaper stream if needed and become a Pulitzer Prize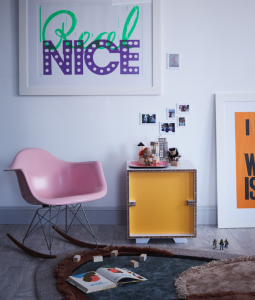 winning novel in their next life. Because we use a material that is so lightweight the carbon footprint for transport and shipping is also drastically reduced."
Every part of Hameland reflects Paulie's belief that creating a space to live in should be fun. Their tables are easy to put together, with only a couple of minutes required.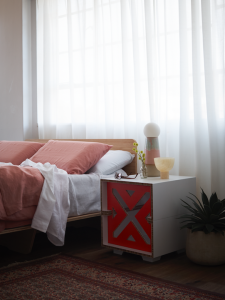 "This means you can play with them straight away. Try them in the loungeroom, bedroom, kid's room, study – anywhere to add some colour and texture. They sit equally at home being paired with a $15k sofa or used to pile books on by the side of your bed."
Innovative circular design is also a major focus of Decor + Design this year. The 2023 Green Design Hub will be curated by Karie Soehardi of Circular Design Thinking and take design visitors on a journey into what true sustainability looks like for the industry.
Paulie says it is an honour for Hameland to be asked to take part in the Green Design Hub. "There are so many other great designers on show, using incredible materials and manufacturing processes."
Circular Design Thinking consulted with Hameland during product development and manufacturing, ensuring that sustainability and circular design are embedded into the entire process.
"Working into a circular economy is something that has helped shape our thinking enormously with use of materials and end-of-life product strategies. We were delighted when we got the email asking if Hameland would like to take part and contribute, it was one of the best emails we've had all year."
Don't miss the 2023 Green Design Hub at Decor + Design & The Australian International Furniture Fair, 13 – 16 July at Melbourne Exhibition Centre. Entry to the exhibition is free but limited to design visitors – you can register here.
Along with Hameland, participants include  Space Furniture, Armadillo, Enviro Hide, Cultivated by Cult Design, AMP Circular,  E9 Design, Cosentino, AH Beard, Zepel Fabrics, ResiLoop and TRAKS Textile Recycling who will be showcasing innovative and stunning sustainable products that are available to the industry right now.