The Australian International Furniture Fair (AIFF), 14 – 17 July 2022, will be a crucial opportunity for trade visitors to see the latest products and innovations in the sector. The latter will include leading Augmented Reality (AR) tools.
Imersian, a web platform that makes it incredibly easy to visualise products using 3D and augmented reality on a mobile browser, will be at Stand F8 at Melbourne Exhibition Centre.
Launched in 2021, Imersian's mission is to build the best 3D and AR visualisation tool, that's simple to use and allows customers to make confident purchases. The company offers a proprietary viewer and AR technology to allow users to view and interact with multiple products in AR, all from a browser.
"As part of our platform, our clients can upload and manage all their 3d content from a single touchpoint and gain performance metrics over time," says Ven Natarajan, co-founder of Imersian.
"We will be doing a public launch soon and would love to offer your visitors a 30% discount on our platform using AIFF2022."
In the lead up to the event, we asked Ven to tell us more about how Imersian can assist design and furniture companies in their outreach to customers.
Ven, how is Augmented Reality (AR) changing the furniture and design industry?
It is changing how customers not only shop for furniture, but also how they design their homes with better understanding of space and scale.
It's helping interior designers communicate and co-design with their clients in real time, across all sectors including residential, retail, and commercial fitouts. It is also being adopted by commercial furniture suppliers to assist with their sales processes.
There is a clear trend of how AR is positively impacting traditional design processes. Especially with the rapidly evolving metaverse economy, which is expected to be a multi-billion-dollar market in the coming years.
Can you give us some examples of recent clients/projects?
We recently partnered with Ignite ABP for Melbourne Knowledge Week to research traditional co-design processes and co-designing with AR. There was an overwhelming response for more adoption of AR in co-designing processes: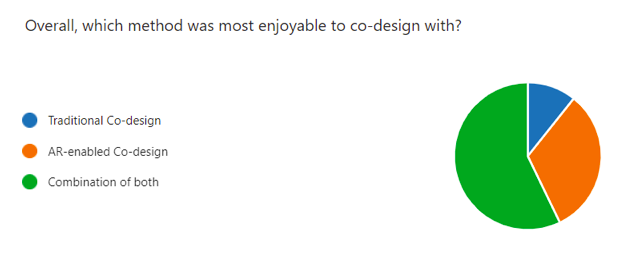 Krost Business Furniture is currently using our platform in their sales processes, and successfully integrated our viewer to their website. I remember when we met Tyron Krost, the MD of Krost Business Furniture, he said "We have come across various AR solutions, but none that are as simple and easy to use as what you guys have built!"
In addition to furniture and design, it is used by architectural material suppliers who would like to help their clients visualise the material in built form before making. We are in conversations with some of Australia's largest furniture retailers and are excited about the adoption of the technology.
What are the barriers you find that retailers and customers offer to using/adopting AR, and how do you overcome these?
Even though commercial AR is currently an emerging market, AR as a technology has been around for a while. Some of the current barriers include education of new AR technologies. Currently, the market offers:
App based AR– Customers are required to install apps which is highly inefficient and clunky experience that often gets uninstalled after a couple of uses. It also has a significant cost and time factor to develop it with little ROI.
Limited, single product viewers in the market – The providers that offer web-based AR use off the shelf viewers, that have limited functionalities that only allow customers to visualise one product at a time
We have built a patent-pending solution that overcomes these challenges through a browser centric experience, that allows customers to view and interact with multiple items in AR.
This enables a whole new dimension to AR based shopping as it finally enables customers to not just visualise a single dining chair in AR but compare different dining chairs with various shapes and material finishes and see it alongside a dining table, wall art, lighting.
In addition, one of the biggest challenges is the Lack of 3D models. Many retailers are yet to build a library of 3D models that are crucial in building 3D and AR experiences. 3D models are increasingly used by architects and interior designers for creating visuals and BIM models as well, so various retailers are in the process of converting their catalogue to 3D files and we expect to see this trend continue.
Our platform allows retailers to upload their existing 3D models, but we also provide 3D modelling services to help retailers through a network of 3d agencies and artists.
There will be a new Sustainability Hub at the show this year, curated by Design Matters, which will focus on the circular economy and recycled materials. How does Imersian help tackle sustainability issues?
Imersian offers tools for retailers to empower their customers to be more conscious and confident about their purchases. "Does the sofa fit my space, does this colour work for my current room, how will this sofa look with the table I plan on buying from the other store".
Uninformed purchase decisions often lead to product returns.  Our product instils confidence when buying, helping reduce product returns, that contribute to carbon emissions and waste as part of value chain.
My sister wanted to buy a sofa for her newly built house. I accompanied her to 7 shops out of the 23 she visited) to help choose the ideal sofa.

If the retailers we visited had AR enabled on their website, it would have saved a lot of travel and fuel use and would have made it easy to shortlist the sofas that suited the house.
You'll be exhibiting at the Australian International Furniture Fair (AIFF) and Decor + Design for the first time in 2022. Why did you decide to exhibit this year? What can visitors expect to experience?
We started Imersian in June 2021 and are excited to share our technology with the public that Decor + Design and the Australian International Furniture Fair (AIFF) attracts.
We truly believe our technology helps retailers with their sales, helps reduce product returns and provides an engaging experience for shoppers to buy products. We want to give everyone an opportunity to try our technology themselves and give a peek into what the future of commerce holds through our interactive stand
Both Supun, and I – founders of Imersian, will be there, answering any questions. We will also be making some exciting announcements regarding the next stage of our platform that will take 3D and AR shopping to the next level.
Our platform will be open to the public to sign up when this article goes online. Decor + Design and AIFF visitors can use the promocode AIFF2022, to try it first-hand and receive a range of perks and discounts.
Meet Ven and Supun, the co-founders of Imersian, at Stand F8 at the Australian International Furniture Fair (AIFF). Entry to the exhibition is free but limited to trade visitors. Register now and start planning your trip!
Visit the Imersian website: https://imersian.com/
Visit the signup portal and use the promo code AIFF2022: https://portal.imersian.com/