In important news for the future of Australian design, the VIVID Design Awards will be back at the Melbourne Exhibition Centre from 14 – 17 July, taking place as part of the Australian International Furniture Fair (AIFF) and Decor + Design.
Now in its 19th year, VIVID is a highly anticipated industry platform, which spotlights early career furniture, lighting & object designers. The competition has kick-started the careers of many prolific Australian designers, including Nicole Monks, Edward Linacre, Adam Markowitz and Dale Hardiman.
The standard in 2021 was incredibly high, with the event taking place later than usual when pandemic restrictions lifted; as a pop-up installation in November at Showroom by Bowens in Port Melbourne. Melbourne designer Isaac Pelchen (above) won both the VIVID 2021 Object and Colour Awards with his standout piece 'Optic Candelabra' (left).
Optic Candelabra experiments with the pathways of light and the phenomena of refraction in physical form, celebrating the beauty of light already within an object, rather than projecting light into it.
In the lead up to Decor + Design and VIVID 2022 in July, we asked Isaac to share his design inspirations and also why VIVID is important for the design industry. You can view the VIVID 2022 finalists here.
What has your journey entailed to become a designer maker? When did you first become interested in design?
The desire to build, create and experiment with materials has been with me for as long as I can remember. As a child one of my favourites pastimes was pulling apart my toys and trying to improve the design or reincarnate them as new 'inventions'.
Eventually my fascination with product design led me to study Industrial Design at Swinburne University, where I was introduced to the concept of designer maker as a profession.
For me starting up as a maker was natural progression in my development as a designer. I have always been strongly motivated to create products that can be self or locally produced, maintaining high levels of craft skill, and supporting local businesses.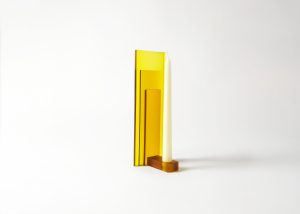 How would you describe your design aesthetic?
My aesthetic is heavily influenced by architecture, many of my designs are contemporary adaptations of the modernist and art-deco styles.
Your VIVID winning piece 'Optic Candelabra' is an experiment in the exploration of refraction. Can you tell us about the ideation and creation?
One of my first roles straight out of university was as a decorative luminaire designer. During this period, I became fascinated not just with lighting, but with light itself. I began to experiment with transparent, reflective, and refractive materials with the intention of capturing and presenting the beauty of light with an object, rather than injecting light into a fixture.
Optic was the second piece in a series of products made in epoxy resin that explore the pathways of light. The piece captures the phenomena of refraction in physical form. As a candle burns down the flame passes by three convex and concave layers. These layers act to refract the light casting a moving spectrum of light over time. The vibrant pigments where selected to symbolize the spectrum of colour visible when white light is refracted.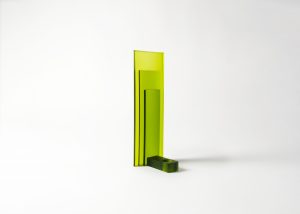 What current projects are you working on? What's coming up for you this year?
I'm currently working on the third and final piece for the collection, a vase, which will be available later this year through my online store www.isaacpelchen.com.au . I've also been looking forward to getting my hands dirty working on some hardwood furniture projects that I've had on the back burner.
 Why are the VIVID Design Awards important for Australian emerging designers?
Australia has a rich design culture with many acclaimed designers from various disciplines appearing on the world's stage. Competitions like VIVID Design Awards give young and emerging designers a platform to present new ideas and be recognised for their talents.
For me, VIVID was an incredibly rewarding experience, not only was I able to make valuable industry connections, I also came away with useful commentary and advice for my practice moving forward.
VIVID 2022 will take place at the Australian International Furniture Fair (AIFF) and Decor + Design at the Melbourne Exhibition Centre in July. The finalists will be on display in a special installation, with the awards ceremony taking place at 3pm on Thursday 14 July. Register now as a trade visitor to attend – entry is free. View the 2022 VIVID finalists here.