The sustainable reuse of materials is at the forefront of the design zeitgeist. Last year's VIVID Design Awards were notable for their innovation in this area. A standout was the winner of the 2021 Concept Design Award, the Poly Chair by Julia Quirk, which reuses excess stock fabric from upholstery processes.
Held every July at Decor + Design and the Australian International Furniture Fair, VIVID Design Awards is Australia's longest-running competition for emerging designers, now in its 19th year.
Judged by a panel of prominent industry figures, VIVID has ignited the careers of many prolific Australian designers including Nicole Monks, Edward Linacre, Adam Markowitz and Dale Hardiman. It is the number one award destination for emerging and early career Australian designers.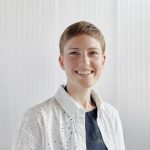 For as long as she can remember, Julia Quirk (left) has been interested in solving problems through design. The Poly Chair reuses excess stock fabric, with a double-curved shell constructed through melting, forming and layering rolled polyester fabric, floating above a frame. The soft nature of polyester textile contrasts with the hard, structural interior, displaying the narrative of the chair's composition.
We asked Julia a few pertinent questions about her inspirations and why platforms like VIVID Design Awards are essential to support emerging designers.
Julia, congratulations on your award! Can you tell us more about your journey to become a designer?
The ability to make, or to change the environment around me has been a fascination of mine since I was young. Many of my oldest memories are of myself, with scissors, cutting into clothes I thought would be more functional if they were different, or building houses for my toys with empty tissue boxes!
Like all designers, I thrive on a problem, and the process to find a solution, generally through my own means. It's a stubbornness which I both enjoy and find frustrating.
In 2015 I began working with Geissel Reed Upholstery, a studio based in Beaumaris. My skills and ideas were nurtured in the small collaborative studio that encouraged independent thinking and exceptional craftmanship.
The current path I am on is taking me through the world of architecture. I am currently studying for my master's degree, still on my way to becoming the designer maker that I hope to be in the future. 
How would you describe your design aesthetic?

Messy, organic and minimalist. I find my work many times borders the line between chaos and control.
The Poly Chair innovatively harnesses recycled materials. In what other ways to you incorporate sustainable practices into design?
In architectural practice, sustainability is key to the success of design. I am fortunate to be able to learn from and work with professionals who are passionate about the environment.
At the university level, testing ideas is highly encouraged. The environment allows for new ways of thinking about sustainability to emerge and to be an exciting element of work.
My own practice has diverted slightly since the Poly Chair. I still work within the realm of experimenting with deadstock fabrics, however in different forms, making clothing and bags.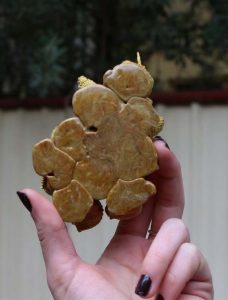 What current projects are you working on? What's next?

I am working with my brother, a welder, fabricator and bike maker, to reuse steel offcuts from fabrication. The project is on pause while I finish my final year of studies, but I am excited to get hands on again soon.  

Why are the VIVID Design Awards important for Australian emerging designers?

Being given a platform to present, discuss and acknowledge young designers is invaluable.
There is so much positive energy surrounding the VIVID Design Awards that, personally, provided motivation to continue working in design.
Coming from an architectural background, the acknowledgement and encouragement I received upon being given the opportunity to exhibit Poly Chair liberated me to see myself in belonging in the world of product and furniture design.
The 2022 VIVID Design Awards will take place at Decor + Design, 14 – 17 July 2022 at the Melbourne Exhibition Centre. Entries close May 11. Find out more about entering Australia's leading competition for emerging designers.
Register as a trade visitor for the Australian International Furniture Fair (AIFF) and Decor + Design to be inspired not only by VIVID but over 250 exhibitors showing their latest collections across furniture, lighting, art, textiles and soft furnishings. See leading designers speak at the Seminar Series, including Collette Dinnigan, Jamie Durie, Shaynna Blaze, Adelaide Bragg and more. Start planning your trip to Melbourne!
---