Attending Decor + Design and The Australian International Furniture Fair (AIFF) is important not only to see the latest products from leading exhibitors – it's also a chance to learn from design industry gurus. When it comes to styling interiors, Kerrie-Ann Jones is someone that you want to hear from in person.
As the former Style Editor of Real Living magazine, Kerrie-Ann's impeccable style and eye for trends have influenced and inspired how Australians decorate their homes.
We're delighted that she will be speaking at the Seminar Series on Saturday 15 July 2023 at Melbourne Exhibition Centre, sharing the secrets behind her signature style – a curated and evocative approach to interiors, balanced with a neutral colour palette.
Kerrie-Ann is known for mixing high-end with affordable pieces, vintage with contemporary, layers with textures and is environmentally conscious. Her Styling Masterclass will be unmissable for interiors designers, decorators and retailers looking for practical ideas to elevate their interiors styling.
In the lead up to the event, we asked Kerrie-Ann five questions to unpack her design approach…
Kerrie-Ann, what was your pathway into the design industry like?
Initially, I worked in the music industry for several years and became burnt out, so I was looking for a change. I have always had a passion for interiors, so in my late twenties, I started from scratch in the industry by assisting stylists at magazines and eventually became Style Editor for Real Living magazine.
I now freelance – styling campaigns for lifestyle brands, magazine editorials and projects for interior designers and architects. I also co-host the interiors podcast House of Style and I'm a lifestyle media presenter. I've recently enjoyed working on brand partnerships and product collaborations. It has been a fun journey and I'm looking forward to what's next!
How would you describe your aesthetic?
My style doesn't fit into one design genre. I take a curated approach to interiors where each piece is selected for its unique and creative point of difference. I like contemporary design fused with mid-century furniture and influences. I layer spaces with interesting textures, sculptural shapes and art wrapped in a warm sandy neutral palette.
What project/s are you most proud of?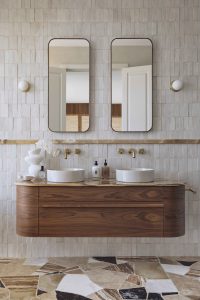 My home renovation (bathroom, left). It has been my most challenging project to date. I took it on as an owner builder, designing the interiors and working with the construction team on site daily to complete it during covid lockdowns and among personal challenges.
Despite the obstacles, I'm thrilled with the results. It's been on the cover of several local and international magazines and has been reposted on Instagram daily for the last two years. It's the gift that keeps on giving in so many ways.
Who or what inspires you in your work?
I am inspired by people who push creative boundaries. We have many talented designers and architects in Australia who execute courageous design ideas brilliantly. I find that truly inspiring.
I love discovering colour palettes. I was in Milan for Salone Del Mobile recently, walking the streets of Brera with the Dulux trend forecasting team. We came across an apartment building that was being repainted and had big swatches of beautiful warm ochre clay and earthy pink colours painted on the front of the building. It was fascinating to see their chosen colour and how beautiful it looked on the building. Stumbling across colours in unexpected and fun ways excites me.
I'm also inspired by texture and sculptural shapes. The weirder, the better!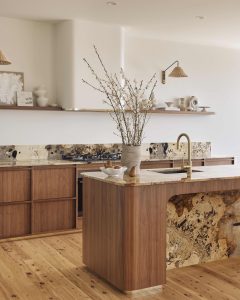 You'll be speaking at Decor + Design & AIFF this year. Can you give visitors a sneak peek at what you'll be showcasing/talking about?
Yes, I'm looking forward to sharing my tips to Elevate Your Interior Style. I'll provide ideas, advice and easy-to-implement tricks that will take styling your projects and home to the next level.
I'll show visual examples with projects I have styled and answer any questions the audience has. It's going to be fun, with lots of actionable insights.
Don't miss Kerrie-Ann's practical style insights at Decor + Design & The Australian International Furniture Fair (AIFF) on Saturday 15 July! Australia's premier trade event for the interiors industry will take place from 13 – 16 July 2023 at Melbourne Exhibition Centre, with leading exhibitors across indoor and outdoor furniture, soft furnishings, textiles, art and lighting.
Register now to visit and book your tickets for the 2023 Seminar Series!