Australians are now far more conscious when it comes to choosing furniture and accessories for the home, searching for products that are good for the environment, the economy and health.
It's a trifecta of concerns that Luxe House Melbourne addresses holistically with their beautiful candles, which have just been certified with the famous 'Australian Made' logo.
The brand is on a mission to produce candles with captivating scents that offer an escape from the everyday, yet still respect the environment. Their candles are blended and poured by hand in Melbourne using biodegradable coconut soy wax, with a raison d'être of 'candles that smell better, made better'.
We are delighted that Luxe House Melbourne will be exhibiting for the first time at The Australian International Furniture Fair (AIFF) & Decor + Design in 2023. With 10,000+ design trade visitors expected over four days, it is Australia's most important destination for interior designers, decorators and retailers to see the latest collections across furniture, soft furnishings, lighting, textiles and art.
The theme of the 19th edition is Elevate, with an increased focus on Australian Made and socially conscious products.
Ethically made candles with a delicate fragrance
Luxe House Melbourne Founder Angela Korchok developed a love for candles at a young age, becoming fascinated by fragrance and the power it has to take one back to the most nostalgic moments. When she became pregnant, she stopped burning candles as they can contain toxic ingredients.
"After my daughter was born, I wanted to burn candles again but I concluded that the only way I could burn them safely at home was if I knew the ingredients used. This meant I had to make them myself!"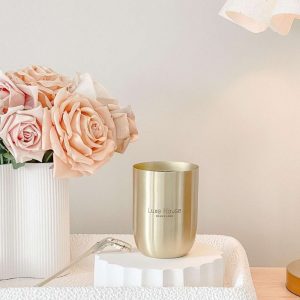 It took many months of research, trial, error and perseverance but Angela and her team have made an exquisite range of candles that are not only beautiful to look at but safe to burn.
In addition to biodegradable coconut soy wax, the candles use lead-free wicks, and the fragrance oils are paraben-free.
"We also use recyclable packaging to reduce our carbon footprint," says Angela. "We continually strive to improve our procedures and processes, as part of our commitment to our customers and the planet."
A gorgeous, minimalist aesthetic
Luxe House Melbourne's design aesthetic is minimal, timeless and luxurious. The candles come in either luxury brass or black metallic vessels, with six different scents available – Ohio Dusk, Fiore, Berry Bowl, Hinterland, Mediterranean Fig and Se Détendre.
"We wanted to create more than 'just' a candle. We wanted to design a piece that would bring sophistication and elegance to the home," says Angela. "The home is a sanctuary, a place for rest, a place to make fond memories. People's homes tell a story. We want to be part of that story."
You can shop Luxe House Melbourne's Christmas Range here.
Plus, don't miss seeing Luxe House Melbourne's stunning candle collections at The Australian International Furniture Fair, co-located with Decor + Design 2023, 13 – 6 July at the Melbourne Exhibition Centre. Register now to visit – entry to the exhibition is free but limited to trade visitors.