Staying ahead of industry trends is essential when it comes to furniture and design. From a demand for more transparency around sustainability to the rise of Augmented Reality (AR) for sales, the industry is ever-changing. See the big picture with this list of key directions from AIFF & Decor + Design 2023, as well as design predictions for 2024/25.
Meaningful Sustainability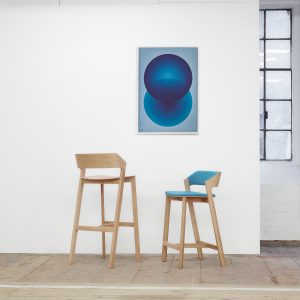 From sustainable materials to energy-efficient solutions and responsible supply chains, the design and furniture industry is both driving and responding to consumer demand for more transparency around sustainability.
Clients want to know the provenance of materials. Many companies, such as AIFF exhibitor LEVEL Furniture (left), are ensuring they source timber from certified sustainable forests.
Recycled and upcycled materials are gaining prominence, giving new life to old items and reducing waste. In addition, there's a much bigger emphasis on locally sourced materials and carbon offsetting, reducing the carbon footprint associated with transportation.
In 2023, Decor + Design & AIFF wowed visitors with the inaugural Green Design Hub. Curated by Karie Soehardi of Circular Design Thinking (CDT), it took visitors on a deep exploration of what sustainability in the design industry truly looks like. It also featured beautiful sustainable products available to the industry right now, from brands including Armadillo, Cultivated by Cult Design, Hameland, E9 Design, AH Beard, Zepel, ResiLoop, TRAKS Textile Recycling, Cosentino, Enviro Hide and more.
The stand itself was created to be dismantled easily, with components that were able to be reused, recycled or upcycled.  Materials and waste were tracked as the stand was assembled and the waste documented, with Decor + Design committing to offset the carbon credits. This carbon neutrality underscored to visitors the need for products to be specified as such in the real world.
Biophilic Design Elements
Over the past few years the shade green has become a comparable neutral to the traditional taupes and whites. The many shades of green, from soft pastels to deep forest greens, will continue to be in demand in both furniture and accessories.
Greenery itself has also become a neutral, with biophilic design a major consideration for both interiors and exteriors of buildings. Biophilic design reflects the need for humans to connect with nature on a daily basis.
Biophilic design also extends to natural materials such as wood and stone. These elements in furniture not only enhance aesthetics but also contribute to stress reduction, increased productivity, and improved overall health.
A Vibrant Palette
Earthy but vibrant shades of orange are trending in interiors and furniture for 2024, paired with deep blues and greens. Orange exudes warmth, and a touch of nostalgia. It can be used strategically to add a pop of colour and vibrancy to interior space, or with abandon to drench them in energy.
For example, we adore the burnt orange shade of the sofa in the top image of this article, from Decor + Design & AIFF Exhibitor Calibre Furniture.
We also love the bold colours in Dulux Australia's 2024 'Muse' palette (right) and have chosen Fluorescent Fire and Passionate Blue as key colours for the show in 2024, offset by a range of greens.
Tech for Streamlining & Optimisation
The influence of artificial intelligence in the design and furniture industry is set to grow exponentially in 2024. AI-powered solutions are transforming the way designers work and how individuals personalise their spaces. From virtual reality simulations to AI-driven design recommendations, technology is shaping the future of interior design.
AI can assist in the selection of colour schemes, furniture layouts, and decor items that align with an individual's preferences and needs. For example, AI can analyse your design choices and suggest complementary colour palettes, ensuring that your space remains harmonious and aesthetically pleasing. It can also help in optimising the placement of furniture and decor for better flow and functionality.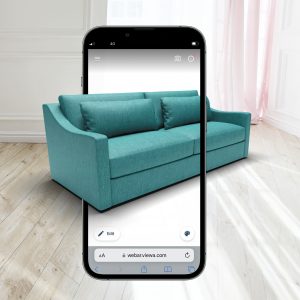 Virtual Reality (VR) and Augmented Reality (AR) applications are also enjoying increasing take up by the industry. These tools allow designers and homeowners to visualise their design concepts in a lifelike 3D environment before making any changes, thereby reducing the risk of costly mistakes and alterations.
Our 2023 AR Partner, Viewa, is one such company virtually bringing furniture to life. Their VisualisAR software allows potential customers to view products in 3D, make real time changes to fabrics, materials & finishes and then place the configured product in their home with a click.
It is designed to make design websites interactive, enhance visualisation and ultimately conversions for furniture retailers.
With the theme of Evolution, The Australian International Furniture Fair (AIFF) 2024 will pivot to a three-day format from Wednesday 17th – Friday 19th July at Melbourne Exhibition Centre. Subscribe now to stay in the loop and receive updates on Australia's most important buying and networking event for the furniture industry, as well as the wider world of design.