The Australian International Furniture Fair & Decor + Design, 13 – 16 July at Melbourne Exhibition Centre, will be a wonderful opportunity for the design and furniture industry to network and see the latest collections across furniture, soft furnishings, textiles, art and lighting. The show will provide plenty of design inspiration, with features such as VIVID Design Awards and the acclaimed Seminar Series.
Until then, let's take a look at some of the upcoming key directions, inspired by the 'Australia 2024' design forecast held recently at the Art Gallery of NSW. Presented by Phillip Fummano of Trend Union, these trends are drawn from those forecast by Li Edelkoort, the world's most renowned design futurist.
Romantic Nostalgia
Nostalgia:
a sentimental longing or wistful affection for a period in the past.
something done or presented in order to evoke feelings of nostalgia.
From the Greek root 'nostos' (to return home), nostalgia is a gathering thread through both interior design and also fashion. Design responds to human needs. Given the twists and turns of the past few years and the exhausting pace of technology, is it any wonder that we're seeking comfort in romance?
Romantic textiles and materials such as lace are set to be huge in 2023, their nostalgia updated with a contemporary edge. Tie dyed and painted textiles return but in more sophisticated, marbled and abstract way.
Watch out for billowing materials and velvety, feathery fabrics that allow people to swaddle in the coming winter months. This also reflects society's recent obsession with mental health and wellness, particularly for younger generations. The romantic colour palette is off-white, putty, pastels and soft yellows reminiscent of a wheat field.
Craft
Craft is back, not only in terms of what people are looking to purchase but in terms of what they're looking to do. This also reflects the growing focus on mental wellbeing. While crafting was once a utilitarian if sometimes enjoyable hobby, it's now recognised for its healing powers. For example, quilting has been used throughout history to help people make sense of events, plus to send to people in service and families in need. It's a beautiful way to use up material offcuts while telling a story.
Expect to see crochet everywhere, in cushions and throws but also in unexpected detailing on pieces of furniture. We love these fun crocheted poufs from Etsy, which can be balanced by a minimalist piece of furniture for a stylishly nurturing space.
Indigenous art and craft will also become more and more influential. Braided grasses and weavings will be everywhere, and First Nations patterns and designs will be featured on wallpapers and textiles.
Fluid Spaces 
The pandemic permanently shifted the way we live: from hybrid working to the rapid adoption of technology and a greater connection to nature. City and country have become much more intertwined, with many people choosing to leave the city while still maintaining a connection with it. Perhaps the city became softer; the country sharper. It's the democratisation of fluid living, which in previous centuries was only accessible to the very rich.
This will continue to impact design as we create and tweak spaces which fit this new mode of living. With traditional demarcations gone, furniture is adapting. A chest of drawers can be both sculptural and functional. Generations can live together in harmony through thoughtful design. Industrial design is being used in country farmhouses and rustic materials bedeck the city. Handmade ceramics are revered, installed in tallboys or on tables with amazing joinery (showing off their handcrafted legs).
Green has, of course, become the new black, with biophilic design entrenched across good residential, commercial and civil design.
Elevated Sustainability
Like biophilic design, sustainability has now thankfully become mainstream. The 2022 amendments to the National Construction Code (NCC) ensure that architects and builders must consider energy efficiency and the sustainability of materials to achieve a 7 star NATHers rating.
For interior designers and decorators, there's a welcome elevation of the sustainable materials available for kitchen and bathroom hardware, tiles, finishings, furniture and soft furnishings. From stunning mushroom leather to beautiful partitions and room dividers made from recycled manufacturing waste, designers certainly don't have to sacrifice style for sustainability.
We'll be inspiring trade visitors at Decor + Design with the 2023 Green Design Hub, featuring the latest and greatest sustainable products.
Grown-Up Glamour

With the return of Art Deco, we'll see mirrored and gilt touches, bronze, lacquered surfaces and Egyptian influences.
Metallics are softer and more grown-up; think brushed metal instead of a chrome finish. Gilding unexpected materials adds a contemporary element – such as hessian dipped in gold. Crushed velvet and other luxe touches will add a feeling of considered – rather than excessive – glamour. Elaborate handblown glass was also everywhere at Milan Design Week 2022.
We absolutely love this Solomia Straw Marquetry Art Deco Wood Cabinet in Terracotta Blue Black by RUDA Studio (right), available for sale on 1st Dibs.
Playfulness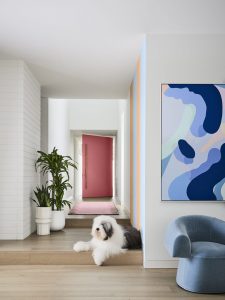 Finally, there's also a playful aesthetic, particularly for younger designers and at Graduation Shows. While the Metaverse hasn't had quite the immediate impact that the tech world were forecasting in 2021, it has infused design with a cartoonish and anime element. Think bright pastels, Fred Flintstone furniture and outsize ceramics to provoke extreme reactions.
We do love a touch of the playful at The Australian International Furniture Fair (AIFF & Decor + Design, which is why we selected the 'Revive' palette from our 2022 Colour Partner, Dulux (left). The hero colour 'Breezy Half Blue', will be used throughout the show in July 2023.
Don't miss being inspired and seeing the latest collections from leading exhibitors at The Australian International Furniture Fair (AIFF) & Decor + Design, 13 – 16 July at Melbourne Exhibition Centre! This is Australia's most important annual event for the interior design industry. Subscribe now to be notified when trade visitor registration opens.