Marlo Lyda has a knack for finding unearthly beauty in earthy remnants. An Australian born designer-maker, she was the winner of the prestigious Judge's Choice Award at the 2022 VIVID Design Awards.
Marlo's practice challenges widely accepted industrial techniques to form curious material investigations with a tangible connection to sustainability and natural phenomena. Remnants Collection won VIVID with its thoughtful restoration of found stone fragments that had been discarded as a nuisance. Marlo coaxed the stones back into the limelight, sitting them atop custom-made frames meticulously wrapped with copper to form stunning coffee and side tables.
A Childhood By Design
As Marlo's friends like to say to her: 'Did you even have a choice?' Growing up in Sydney, Marlo was immersed in design. Her Mum owned Spence & Lyda, a highly-curated furniture and lighting showroom, now based on Danks St in Waterloo. Marlo grew up attending furniture fairs and experimenting with materials, so it was perhaps always a fait accompli.
Marlo studied at COFA (UNSW College of Fine Art) for two years. However, it was in the Netherlands that she really found her design voice. Attending Dutch Design Week, she came across the Design Academy Eindhoven and was inspired by their highly conceptual approach. Studying in Eindhoven gave her a thirst for working with expert technicians and craftspeople and it was there that she forged her aesthetic of purity and appreciation.
"I love observing the beauty that other people have ignored – finding ingenious and imaginative ways of using what's in existence and keeping it as pure as possible. For example, not putting a resin top on timber. Elevating what already exists, that I've come across by accident."
Marlo's VIVID-winning Remnants Collection was inspired by a broken Travertine marble table. While in Eindhoven Marlo had learned to look deeper into seemingly 'broken' materials and also discovered how wonderful it was to work with technicians and craftspeople who were masters of their craft but remained humble.
Marlo got to know the owner of the stone company, which had been a family business for over 80 years. Now, the warehouse in Sydney was closing. Marlo asked if she could rummage through the remnants and skip bins. In doing so, she unearthed truly special stones and marble, including rare pieces which still had the drill holes from quarry extraction over forty years ago,
Once she'd selected the pieces, Marlo created the scaffolding and the binding for the marble and restored the stones, showing the effort through the patination.
Fostering the Next Generation of Australian Design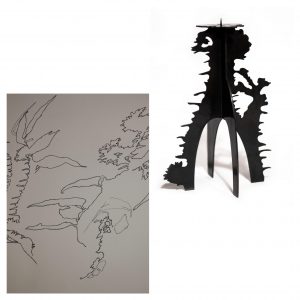 Now based back in Sydney, Marlo is working in Product Development and Styling for Spence & Lyda by day, and launching her own studio by night. "I can't not design. There's nothing else that brings me both the tranquillity and excitement that design does. 
Continually inspired by nature, Marlo says that "play is so important in design." Her latest pieces are candleholders inspired by a day sketching trees and shadows in a local national park (left).
Marlo was also recently invited to be part of the New Australian Design exhibition curated by Emma Elizabeth as part of Sydney Design Week. She showed Remnants Collection and a new series of mirrors, Shifting Mirrors. This project departs from the realm of rigidity to question those who view it; does repetition free, or bind us?"
Picture frames collected in Marlo's local area were repetitively hand-wrapped in steel straps and welded in place. The original wooden frames, that give the Shifting Mirrors their initial form, were burned away. After the flames subsided what remains is a chance deformation, which Marlo simply captures and renders permanent.
Nurturing Australian design talent is essential to foster creativity for generations to come. The 20th anniversary edition of VIVID Design Awards will take place as part of Decor + Design and the Australian International Furniture Fair (AIFF) at Melbourne Exhibition Centre, 13 – 16 July 2023.
"As an emerging designer, it's so important to have the camaraderie and community that VIVID bring," says Marlo. "It was wonderful to have people reaching out, and to have the industry as a sounding board."
Entries for VIVID 2023 are now open, closing April 14! Download the entry kit here.
Plus, register as a trade visitor to the Australian International Furniture Fair (AIFF) and Decor + Design to see the 20th anniversary edition of VIVID Design Awards, Australia's longest running competition for emerging designers, as well as leading exhibitors across indoor and outdoor furniture, soft furnishings, textiles, kitchens and bathrooms, lighting, art and more.