After two years spent in the virtual waiting room, the design and furniture industry is more than ready for real-life interaction and the opportunity to touch and feel products at events like the Australian International Furniture Fair (AIFF). The pandemic may have accelerated the adoption of technology like Zoom but it also emphasised the importance of doing business in person.
However, the growing Metaverse does offer numerous opportunities for designers and retailers to engage.
Say what? What exactly is 'the Metaverse'?
The Metaverse is still being built, by familiar tech giants such as Facebook (recently renamed Meta) and Microsoft, as well as many others like Roblox and Decentraland.
It refers to an interconnected series of virtual worlds, which users can easily move between. The term encompasses Virtual Reality (VR) as well as Augmented Reality (AR) and spaces that can be accessed through PCs and phones.
Instead of a game or virtual world stopping when you stop playing, the metaverse will continue to exist without you. While this has been happening for a while – in games like World of Warcraft, for example, or even social media – the difference is you will be able to move your avatar, your digital clothing, cars, and artworks between these digital worlds. That's when NFTs come into play.
Securing Original Design or IP with NFTs
NFTs (Non-fungible Tokens) have been making news for the huge prices they've been fetching. An NFT is a digital asset that represents real-world objects like art, music, clothing, and videos. They're bought and sold online, usually using a Cryptocurrency like Ethereum, and encoded via Blockchain technology so that the owner is in possession of a "one-off" piece. No two NFTs are the same and may represent a unique artwork, shoe or even a house.
All of this translates to a digital economy where users can create, buy and sell art and design. Take a look at these three fascinating examples of art and design transactions that blur the boundaries between the real-world and the metaverse…
Beeple's $69 Million NFT Artwork
Last year, artist Beeple – real name Mike Winkelman – made history with the first NFT auction run by powerful auction house Christie's, achieving a record sale of $69 million. Beeple was an early adopter of digital art and has created and published a new digital artwork every day for the past 14 years.
"Everydays – The First 5000 Days"  has become so valuable partly thanks to Beeple's large fan base, with around 2.5 million followers across social channels. This seminal sale also happened at the tipping point when many began to see NFTs as the main way digital art will be traded moving forward. The subject of the collage is also very 'meta' – in every sense of the word!
NFT art throws out all kinds of questions around value and copyright, and there's a lot of discussion as to whether it may be a flash-in-the-pan bubble. For now, however, artists of all practices are exploring new frontiers.
Krista Kim's "Mars House"
Mars House ( also feature image of this article) made history in 2021 as the first purely 'NFT digital home' for sale at auction. Once purchased, the digital file can be uploaded to the Metaverse.
It was designed by artist Krista Kim, who was inspired by the pandemic to create a healing atmosphere using what she describes as her 'Digital Zen' philosophy. It is an LED light sculpture and has the effect of many gradients in motion.
Mars House sold for over 288 Ether – around US$500,000 – at auction on NFT marketplace SuperRare.
The Fabricant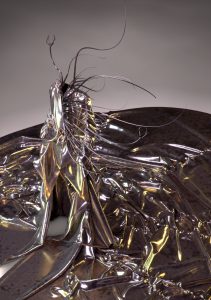 Digital-only fashion design house The Fabricant creates garments that are only worn virtually, helping to reshape the perceptions and limits of digital fashion.
We love this collaboration between The Fabricant and Australian designer Toni Maticevski for Australian fashion week. The 'Animator Overcoat' (left, image from AFW) is unisex virtual couture that is decorated with claw-like spikes. The purely digital garment couldn't be worn in the real-world, thanks to the spikes and a molten metal, cascading train inspired by The Matrix.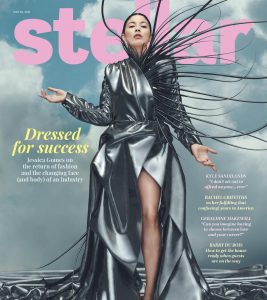 Attendees at Australian Fashion Week were able to have their photo taken by a fashion photographer, then the images were sent to digital fashion retail platform DressX, who tailored the Animator Overcoat to fit. The wearer could then share across their social channels.
Whatever your view on the Metaverse, one thing is certain – it's currently providing manifold opportunities for designers and brands to showcase their work to consumers in new and exciting ways. Decor + Design & AIFF exhibitors like Warwick Fabrics are already using Augmented Reality technology such as Viewa to allow their customers to see fabrics and products in their homes before buying.
An integration between technology and the real world is essential in a tactile industry like design. While the former provides an opportunity to streamline business and have a global reach, nothing replaces real world interaction in a tactile industry like interior design.
The Australian International Furniture Fair (AIFF), will take place from 14 -17 July 2022 at the Melbourne Exhibition Centre, co-located with Decor + Design. With hundreds of leading exhibitors showing their latest collections, 10,000+ industry visitors are expected over four days. Don't miss this unique chance to network, discover inspirational trends and do business in the real world.
Register your interest to be notified when trade visitor registration opens! In the meantime, take a tour of Krista Kim's "Mars House" below: