As we lead up to the 19th edition of The Australian International Furniture Fair (AIFF) & Decor + Design in Melbourne this July, the 61st edition of the world's most important design event has just wound down. Milan's Salone del Mobile and Fuorisalone (Milan Design Week) was once again a moveable feast for the eyes!
With over 300,000 visitors descending on the city from 17th – 23rd April, Milan Design Week is the annual apex of the design world. After a cancellations and delays thanks to the pandemic, it was back to its usual European spring dates and blooming best. 2023 also featured EuroLuce, the International Lighting Exhibition.
The week is divided into two parts. Salone del Mobile refers to the enormous exhibition which takes place at Rho Fiera on the outskirts of the city. Fuorisalone is the parallel series of over 1000 events that take place in the four design quarters throughout the city – Brera, Isola, Tortona and Cinque Vie.
We've plucked some core trends from this annual kaleidoscope of design, to inspire you in the lead up to Australia's own premier interior design destination. At Decor + Design & The Australian International Furniture Fair (AIFF), Dulux Colour & Trends Forecaster Bree Leech will be including trends from her trip to Milan in the 2024 Major Design Trends Forecast on Friday 14 July.
Until then, here are some highlights from the week that just was in Milano…
Fluid, Organic Shapes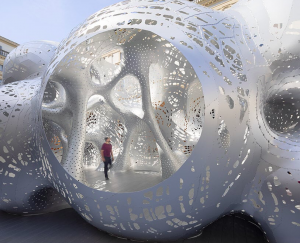 A design element which wove through Milan Design Week 2023 were organic shapes. This manifested in flowing forms and curves, or shapes which echoed flowers and plants.
This was especially true at Louis Vuitton's Objets Nomades Collection, which has become a highlight of Milan since its inception in 2012. Louis Vuitton invites celebrated designers from around the world to design experimental but functional furniture and objects. In 2023, designers included Marcel Wanders, Atelier Oi, Raw Edges and the Campana Brothers.
Louis Vuitton unveiled the 2023 Objets Nomades in the historic Palazzo Serbelloni. In the forecourt, there was an extraordinary, coral-like structure called 'Pavilion Nomad', designed by MARC FORNES / THEVERYMANY. It evoked a living entity emerging from the courtyard, with an ultra-thin structure comprised of anodised aluminium sheets (Images above courtesy of Designboom).
Inside the Palazzo, the 11 new Objets Nomades wowed visitors with their organic essences brought to life with metallics and rich colours. We love the delicate, floaty Capeline lights from Dutch designer Marcel Wanders. Inspired by a type of wide-brimmed women's hat, they also echo forms found in nature.
Playfulness With Natural Stone, Minerals and Crystals
Last year Milan was full of geo-prints and surfaces – this year it upped the ante. Natural stones, minerals and crystals were a star of the show, used in increasingly creative ways.
Dutch material brand SolidNature presented an installation titled Beyond the Surface. Designed by Ellen Van Loon and Giulio Margheri at the Rotterdam-based architecture brand Office for Metropolitan Architecture (OMA), the installation explored dreaming and stone quarrying.
The installation was hosted as part of a group show alongside work by Dutch designer Sabine Marcelis and Iranian artist Bita Fayyazi.
Marcelis created a buffet table and bar that visitors could interact with, made from glass and travertine. The tops of the stone  pillars at each end act as serving platters, with concave wells for cradling ice. Culinary artist of the moment, Laila Gohar, staged a conceptual, edible feast and food determined by the colour palette. It pushes the boundaries of how stone is used.
Ingenious Recycled Materials
Natural materials were also the focus of Fondazione Prada's prestigious series of talks during Milan Design Week, Prada Frames. Centred around the topic of 'Materials in Flux' , the symposium reflected on 'the potential for original creativity and opportunities for low-impact production opened up by the use of innovative recycled materials.'
Throughout Milan, designers continued to surprise and delight with the ingenious reuse of waste. The Slow Hand Design Exhibition was a beautiful example. Now in its 10th year, it showcased Thai designers' combination of tradition, technology and renewable and recyclable materials.
Thai brand MORE challenges perceptions of waste by turning it into exceptional pieces of design. Their collections include pieces made from bottle caps, UHT boxes, sugarcane, coffee grounds, eggshells and PVC edge banding from industrial waste. Bound Chair from MORE is designed with the concept of interchangeable parts. Backrests are made from rattan while the seats are made from PlasCoff, a compound of plastic and coffee chaff from the roasting process.
Staging Low-Impact Events
Exhibitions and in-person events are essential to the world of design. They allow people to forge relationships, be inspired and have unexpected interactions. They are magical places of creativity and invention. Which is why it's so important that the events industry continues to pivot towards staging environmentally responsible, low-impact events.
The behind-the-scenes organisation of Salone del Mobile over the past couple of years has been driven by sustainability. Many exhibitors chose to reuse stands, significantly reducing emissions. Salone president Maria Porro says that "to change things in a substantial way, you have to have the support of the majority. So we took a ground-up approach, without imposing anything, but providing lots of tools so that companies could work in the most sustainable way." 

"We came to terms with the most important exhibitors and joined forces with them to set guidelines on materials, logistics, catering, lighting and fabrics. These guidelines were distributed to all the brands taking part in Salone 2022; they were not forced to follow them, but many did just that."
Decor + Design & The Australian International Furniture Fair (AIFF) will take place from 13 – 16 July 2023 at the Melbourne Exhibition Centre. The event is run by Informa, which is committed to sustainability and to becoming carbon neutral by 2025. In 2024 we will be introducing sustainability guidelines for exhibitors, and this year there will be an increased focus on Australian Made and socially conscious design. The 2023 Green Design Hub at the show will be curated by Circular Design Thinking and take visitors on a journey into what true sustainability looks like for the industry.
Register now to attend as a trade visitor now! Entry to the exhibition is free but limited to trade visitors. Seminar Series are ticketed and range from $55 – 75.