Getting a good night's sleep has become society's holy grail. From sleep apps that feature a mellifluous Stephen Fry telling a bedtime story, to the proliferation of sleep scientists and wearable tech, we're obsessed with sleep.
However, the essential ingredient of a good night's sleep isn't lullabies for adults. It's a high-quality mattress. Investing in a top-notch mattress will support your body, mind and soul for years to come.
2023 Australian International Furniture Fair (AIFF) exhibitor MLILY is known around the world for their exceptional bedroom and lifestyle products. In the lead up to the show, we spoke to Adam Duckett, National Sales Manager of MLILY Australia, about how their mattresses are crafted for optimum sleep…
Can you tell us more about the history and ethos of MLILY?
MLILY is dedicated to improving deep sleep. We are obsessive in our product design and commitment to caring for and nurturing those that use our products. We're aware of the profound impact sleep can have on wellbeing.
Our founder James Ni always believed that foam creates a superior sleep experience and dreamed of one day redefining how people sleep. Ni is then credited with developing unique machinery that allowed precise foam cutting, later expanding into foam production for mattresses and pillows.
To this day MLILY remains committed to design and innovation manufacturing at state-of-the-art factories around the world,  and has been a global leader in sleep development and production for over twenty years.
How do your mattresses and pillows differ from other brands on the market?
Our commitment to needs based design has led us to developing a range of proprietary foams and foam infusions including gel, bamboo, charcoal, and copper. These infusions bring unique properties and their associated benefits to the foam.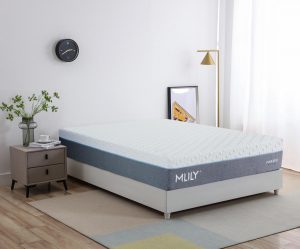 Our mattress products are designed to reduce toss and turn throughout the night through our pressure-relieving foam, which better supports the body for deeper sleep.
In regards to our pillow range, we have many different solutions for our customers. Suiting all types of sleepers from side, back and tummy sleepers. 
Please tell us more about the design and making process.
MLILY has grown off the back of our ability to design and innovate in the market on a global scale, including working with Manchester United at their training centre (U.K) and with the International Chiropractors Association in America. We have taken that capability and knowledge and applied it to the very unique Australian market place.
Can you share some exciting residential or commercial projects that you've worked on?

Developing a product for the unique Australian marketplace is both exciting and challenging. Australia is known for its diverse consumer preferences, cultural nuances, and geographic considerations, which make it a uniquely distinct market!

Further, considering Australia's vast geography, it's essential to consider factors like climate variations and the impact and needs of customers. It is widely known that the body cools down during sleep and as an example we create products to support that change.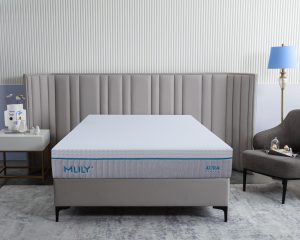 Additionally, Australia has its own logistical challenges. Surmounting these is something we've always prided ourselves on! We've now furthered our capability to service the local market by adding two more warehouses in the last six months, bolstering our already national distribution network and allowing for increased service. 
We're excited you will be exhibiting again in 2023. What can visitors expect to see from your latest collections?
For AIFF 2023, MLILY are proud to present a select range of our premium mattresses that we believe provide a premium value proposition for stores and customers.
Visitors can expect to see the cutting-edge designs MLILY are known for and have been working tirelessly to push the boundaries continually innovating in the design space.
Further, visitors can expect to see a wide range of materials, experimenting with their properties to create textures and tactile experiences with a range of functional benefits including cooling and antimicrobial properties.
Complemented by a range of bases and top of bed products. We look forward discussing how our products can help you and in turn support your local communities.
The 19th edition of the Australian International Furniture Fair (AIFF) will take place from 13 – 16 July at Melbourne Exhibition, co-located with Decor + Design. Register now to attend – entry to the exhibition is free but limited to trade. 
It is the most important buying and networking destination for the furniture and retail professionals. See the latest collections from MLILY, along with LV Furniture, HTL International, Himolla, VIVIN, Maker & Son, Crafted Furniture, Calibre Furniture, Vetro Furniture, M Design Furniture and many more.