NEWS: We are delighted to announce that renowned interior design personality Shaynna Blaze will be speaking at Decor + Design and the Australian International Furniture Fair (AIFF) on Friday 15th July.
After a pandemic-induced hiatus of three years, Australia's most important furniture and interiors trade events will return to their home of the Melbourne Exhibition Centre from 14 – 17 July. Hundreds of exhibitors will showcase their latest collections across indoor and outdoor furniture, lighting, textiles and art. Features include the highly-respected VIVID Design Awards for emerging designers, a new Sustainability Hub curated with Design Matters, the Champagne Lounge and the Seminar Series; one of the best annual line-ups of design speakers in the country.
A Much-Loved Australian Design Personality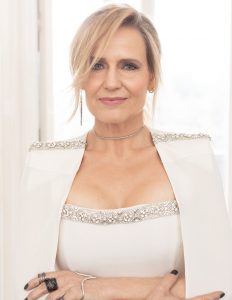 The theme for the Seminar Series this year will be 'A Masterclass in Australian Design' – of which Shaynna Blaze is a pivotal part. A major fixture on the Australian design scene, Shaynna has built a storied career in media.
An award-winning Interior Designer, Author, Creative Director, Producer and TV personality, she is perhaps best known for her role as a Judge on TV juggernauts The Block and Selling Houses Australia. In addition, her Interior Design business, Blank Canvas Interiors, has created stunning interiors across both residential and commercial spaces for more than thirty years.
Shaynna has an unerring eye for style and also lends her expertise to the design of countless beautiful products for the home, in collaboration with brands including Molmic, Urban Road and One World Lighting – plus a hugely successful homewares range for Harris Scarfe.
The author of two books on interior design – Design Your Home and Design with Colour and Style – Shaynna's expertise is highly sought-after in in areas including design, colour, and trends.
A woman of many talents, Shaynna is also a jazz singer and was the overall winner of Celebrity Apprentice Australia 2021, raising a record amount of money for her charity Voice of Change, which uses the arts to unite domestic violence bodies on a single platform to invoke change with one cohesive voice.
When it comes to design, Shaynna loves to inspire others with the impact it has on our social environment, and the influence it has on how we live and communicate.
Be Inspired by Influential Designers at Decor + Design 2022
Don't miss the chance to be inspired by Shaynna Blaze in person on Friday 15th July 2022 at the Seminar Series at Decor + Design. Other confirmed speakers for 2022 include Adelaide Bragg, Cameron Kimber, Robyn Holt, James Treble and more.
Entrance to the exhibition for Decor + Design and the Australian International Furniture Fair (AIFF) is free but limited to trade visitors. Register now to be notified when visitor registration opens and seminar tickets are on sale.
See you at the 18th edition of Decor + Design and the Australian International Furniture Fair!