The pandemic shot TikTok into the stratosphere. Now with over 3.5 billion downloads and at least one billion active users across the world, the short-form video app has become the place to discover the latest trends. While it can sometimes still be perceived as a platform dominated by Gen Z, over 40% of its users are aged 30 – 49.
Nothing is static on TikTok; instead users can create videos up to three minutes long. While its become a major destination for synchronised dance crazes and hilarious pranks, it's also a place for businesses to thrive and educate their audience in an entertaining, dynamic way. Like Instagram, TikTok uses hashtags to categorise content and make it easier for users to find what they like. The algorithm is particularly powerful, meaning that within a short time of using the app, TikTok is delivering a highly curated feed directly to a user's #fyp (for you page).
TikTok is becoming a rich seam of inspiration for the interior design industry, which has historically dwelt on Instagram. According to Statista, one of the Top 5 hashtags searched on TikTok is 'home renovations/DIY'.
New to TikTok?  Get started by following these inspirational interior design accounts.
@thedesignfiles (16K Followers)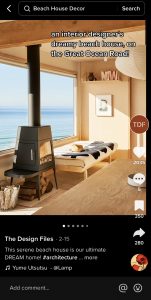 Founded by Melbourne stylist Lucy Feagins in 2008, The Design Files has come Australia's most popular digital design publication. They cover real Australian homes, gardens, art, architecture, interior design, furniture, textiles, homewares, food, and more!
With a huge engaged following on Instagram, The Design Files also has a growing fanbase on TikTok. With a passion for original content, high quality photography, videography and writing, The Design Files tells great design stories, document beautiful spaces, and keep their community informed about creative happenings Australia-wide.
The Design Files will also be partnering with Decor + Design & the Australian International Furniture Fair (AIFF) on the 2023 Seminar Series in Melbourne. Lucy Feagins will be chatting with interior design star du jour Brahman Perera on 13th July, so stay tuned for when the program is released in early April 2023.
@studiobrie (69K Followers)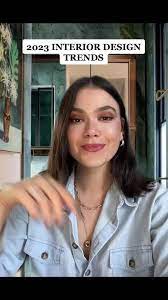 Brie Turton's TikTok account has also become one of the hottest Australian destinations on the app, with almost 70,000 followers. She is an experienced interior designer across commercial, furniture and residential design through her eponymous Studio Brie.
With a background as a performing arts student and dancer, Brie studied to be an Interior Designer at Billy Blue College of Design in Sydney and interned at Vogue Living and Interior Life; hired as a junior designer at the latter before she even graduated. Since then she has gone from strength-to-strength, founding Studio Brie in 2020. In 2022 she joined the cast of TV's Australia's Best House, hosted by Megan Gale, as the resident Interior Design Expert.
On TikTok, Brie's fusion of creativity, style and interior design has become incredibly popular, with short-form instructional videos that entertain as much as they educate.
Brie has also joined the line-up of speakers at Decor + Design & AIFF 2023, and will be in conversation with Jen Bishop, the charismatic Founder of Interiors Addict, on Friday 14th July.
@archdigest (892K Followers)
The interior design and architecture bible, Architectural Digest has been one of the most successful of the long-established media brands to pivot into social media.
While its print publication and website destination are the heavyweight champions of in-depth coverage for the industry, AD  have harnessed the short-form power of YouTube, Instagram and TikTok to great effect, particularly with their exclusive access inside A-list celebrity houses. Their entertaining peeks inside the homes of Kendall and Kylie Jenner, Cara Delevingne, Lily Allen and David Harbour and many more have earned millions of views.
There's always something happening in the global world of interior design and architecture. Yet, particularly for this industry, nothing replaces the power of real-life interaction and the opportunity to touch and feel the latest products. The Australian International Furniture Fair (AIFF) & Decor + Design, Australia's premier buying and networking destination for the interior design industry, will take place from 13 – 16 July at Melbourne Exhibition Centre.
With hundreds of exhibitors and features including the Seminar Series and VIVID Design Awards, you don't want to miss this chance to be inspired. Register now as a trade visitor and start planning your trip to Melbourne!