Be inspired by talented local furniture designers this year at the Australian International Furniture Fair (AIFF) and Decor + Design. Taking place 13 – 16 July at Melbourne Exhibition Centre, the co-located trade events have become the country's leading annual destination for the design and furniture industry.
2023 will feature many Australian Made exhibitors, including Timber Technik, a family-owned business from Geelong that will be exhibiting for the first time.
Timber Technik's lighting pieces are a mesmerising portrayal of the shapes of the sea and the ships that inhabit them. Inspired by Owner and Designer Vaughan McGillivery's life as a shipwright, the unique designs have won a loyal following.
Vaughan comes from a long line of master craftsman, and spent over eighteen years as a luxury wooden yacht builder. These finely-tuned skills in creating beautiful and sustainable timber products can clearly be seen in his unique light fitting designs, which are carefully handcrafted using steam bending, a common practise in boat building.
Steam bending is the process of soaking a piece of wood in hot water at boiling point for a certain period of time in a steam box, softening the fibres to make it pliable. Once the timber cools down and the fibres dry once more, it will hold its new shape.
Can you tell us more about the foundations of Timber Technik?
I started Timber Technik with over 18 years of experience as a luxury wooden yacht builder. Steam bending is a fundamental skill for a shipwright, and I was eager to explore how I could apply those techniques to other products, particularly lighting and furniture.
Out of this curiosity, Timber Technik was formed – a brand that creates beautifully crafted living and lifestyle items out of one of the world's most important and sustainable resources, timber. At its essence, steam bending is all about crafting handmade items with very few tools, instead relying on technical ability and skills developed over many years of work. This principle lies at the heart of every one of our products and forms the foundation of Timber Technik.
How would you describe the brand's aesthetic? 
Timber Technik's aesthetic is very much guided by the natural materials and handcrafting techniques that we use. We are all about creating items with beautiful, graceful curves, in natural, sustainable and distinctive materials.
Please tell us more about the design and making process.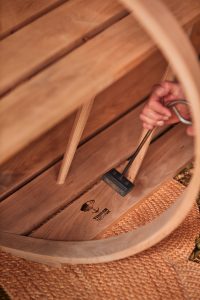 The creation of a Timber Technik product, from design right through to construction, all happens within our workshop in Moolap, Victoria. An initial client consult involves plenty of collaboration and sketching, which then leads to a hand drawn plan. We source our sustainable and often reclaimed timber from both Victorian and Tasmanian based suppliers, being sure to choose exactly the right piece of timber for each product. I then spend time constructing the product by moulding the timber into shape using steam bending techniques.
Can you share some exciting residential or commercial projects that you've worked on?

We love to work with local builders, architects and homeowners based along the Bellarine Peninsula where we live, and often find that the natural aesthetic of our products is the perfect fit for coastal, architecturally designed homes. We recently finished a custom, steam bent seating piece for premier builder David McDonald in Point Lonsdale – and can't wait to share photos of the finished product!
What degree of customisation is available to design industry clients?
We love to collaborate with clients to create exactly the right product for their project. If that's completely unique then even better!
We're excited you will be exhibiting for the first time in 2023 at Decor + Design and The Australian International Furniture Fair (AIFF) in Melbourne. Why have you decided to exhibit – and what can visitors expect to see?

As a relatively young business, we're keen to show industry experts what we have to offer. We're excited to be able to exhibit our pieces at the Decor + Design show next year, so that more people can know our work and collaborate with us to add that perfect finishing touch to their project.
Visitors who walk into our stall can expect to see an abundance of pieces that feature beautiful, clean curves and natural materials. We will be showcasing our handcrafted, steam bent lighting range, as well as some brand-new furniture pieces.
Don't miss seeing Timber Technik at The Australian International Furniture Fair (AIFF) and Decor + Design 2023, 13 – 16 July at Melbourne Exhibition. This will be the 19th edition of what has become Australia's premier annual destination for the design industry and will have the theme of Elevate, with an increased focus on Australian Made and socially conscious design. Subscribe now to stay in the loop on who will be exhibiting, the latest trends and to be notified when trade visitor registration opens.