The world may be changing but so are furniture trade shows. In an exponentially virtual world, 'in person' events have become more important than ever. They are a key channel for businesses to stand out from the crowd, build excellent client relationships and accelerate into the coming year.
This is especially true in a 'touch and feel' industry like furniture, where the ability to experience products in real life can cement a sale. Trade shows like the Australian International Furniture Fair (AIFF) & Decor + Design now work strategically in tandem with a powerful online presence to help furniture businesses move their product and optimise ROI.
From Melbourne to Milan, design and furniture trade shows remain key platforms to see the latest collections and do business in a relaxed and stylish environment. From 13 – 16th July 2023 at the Melbourne Exhibition Centre, the 19th edition of the Australian International Furniture Fair (AIFF), co-located with Decor + Design, will allow attendees to communicate, differentiate and elevate far beyond what is currently possible online or over the phone.
Communicate

Australasia's only truly 360-degree event for the interiors industry, the Australian International Furniture Fair (AIFF) & Decor + Design is an important annual destination for interior designers, decorators, architects, retailers and buyers. In 2023, exhibitors will showcase indoor and outdoor furniture, soft furnishings, lighting, kitchen and bathroom hardware, textiles and art.
With 10,000+ trade visitors over 4 days, it brings key players together under one roof, allowing visitors and exhibitors to build meaningful relationships and do business at stands and at locations such as the Champagne Lounge, which showcases the latest colour trends and is also the perfect place to relax, discuss emerging designers, conduct business and nurture creativity.
The show is also attended by influential design media editors from The Design Files, Australian House & Garden, Belle, Better Homes & Gardens, Artichoke, Inside, the AFR, Houzz, The Age, Houses, Interiors Addict and more. The Seminar Series at Decor + Design takes place within the exhibition and is a prestigious line-up of high-profile designers which in 2022 included Collette Dinnigan, Anna Spiro, David Flack, David Hicks, Adelaide Bragg, Shaynna Blaze, Jamie Durie, James Treble and more. Direct exposure to these kinds of names is almost impossible anywhere else.
Trade shows provide an essential sense of community for the design industry. If there's one thing we've all learned, it's that physical and face-to-face connection is irreplaceable.
Differentiate
Trade shows can provide much higher ROI than other marketing channels. Establishing connections with the right audience creates warmer leads than draining money into the bottomless pit of SEO or display marketing. Social media advertising now also requires a very high spend, which many brands can't afford. Leveraging the network of an established event like Decor + Design & the Australian International Furniture Fair (AIFF) activates a targeted new marketing platform, with a verified and high-quality Australian online design community of 85,000K+.
Trade shows are a way to stand out from your competitors, which is why German furniture giant Himolla will be returning to exhibit in 2023. Says Markus Lutz of Himolla: "While Australia is a big undertaking, it's worth it. It's important to build up a brand image at trade shows, which is why we exhibit at nearly twenty shows worldwide. "
Clever brands continue to factor trade shows into their annual marketing plan, aware that they are an indispensable way to leave an indelible mark on potential buyers.
Elevate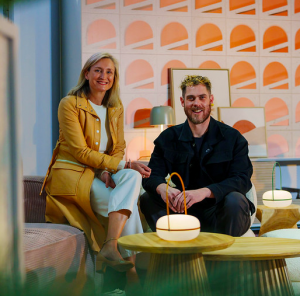 Finally, trade shows are a fundamental place to be inspired and to see the latest directions. The theme for AIFF & Decor + Design 2023 is Elevate, with a focus on Australian Made furniture and socially conscious design that factors in the environment and the community.
We will inspire visitors to think differently about how they buy through new features such as the First Nations Design Collective and the Green Design Hub. The Seminar Series will also provide insights from highly influential designers and tastemakers like Lisa Green and David Flack (left), giving interior designers important inspiration for their work.
The 20th edition of the VIVID Design Awards will also provide a platform for the brightest emerging talent in design. VIVID has kick-started the careers of many prolific Australian designers including Nicole Monks, Edward Linacre, Adam Markowitz, Dale Hardiman and is the premier award destination for emerging and early career Australian designers.
This is Australasia's most comprehensive event for the interiors industry, an important annual destination which acts as both an effective marketing platform and a warm place of community.
In an era of endless information and entertainment that blurs into one abstract, gelatinous mass, the need to get together in real life is pressing. The chance to touch products, to see and hear influential speakers in the flesh and to mingle with your peers is something you can't afford to miss, as either an exhibitor or visitor.
The Australian International Furniture Fair (AIFF) will take place from 13 – 16 July 2023 at Melbourne Exhibition Centre, co-located with Decor + Design. Register your interest to exhibit and join a line-up which already includes names like LaGrolla, Cromwell, Apsley & Company, Ink & Spindle, Himolla, Natural Fibre Textiles, Jar Furniture and many more.
If you'd like to attend as a trade visitor, register your interest to be notified when registration opens!